5 Years Later: Reading a New Translation of Les Misérables!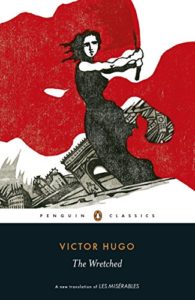 I've been thinking for a while about picking up Les Misérables again, and five years after my last re-read seems like a good time to do it. This time I'm reading a different translation, Christine Donougher's version published in 2013, a.k.a. The Wretched.
Yes, I'm reading a translation published during my last read-through.
Yes, they translated the title.
Yes, there's probably an element of defiance here, stubbornly insisting that the world continue in such a way that it's possible for me to read the digital equivalent of a 1300-page brick. (Reading Les Mis in 2018 is a bit different than reading it in 2013.)
I do plan on posting commentary again, here and at @ReadingLesMis – but I don't plan on going into as much detail. More impressions than the play-by-play I wrote last time.