Commentary on the Novel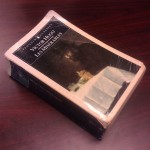 I first read Les Misérables in high school, back in 1992 or 1993, after discovering the musical. The 2012 movie rekindled my interest, and I re-read it (the Norman Denny translation) with an entirely new perspective, writing commentary as I went.
In 2018, I came back to it again, reading the Christine Donougher translation. It was interesting to compare the translations, and to see how my perspective changed again after just five years.
Part One: Fantine
Part Two: Cosette
Part Three: Marius
Part Four: The Idyll in the Rue Plumet and the Epic of the Rue Saint-Denis
Part Five: Jean Valjean
Followup Commentary
Over the next few years I watched and reviewed various movie adaptations (and parodies).
Five Years Later: Re-Reading Again
I came back to the book again, this time reading the Christine Donougher translation (2013).
Part One: Fantine
Part Two: Cosette
Part Three: Marius
Part Four: The Rue Plumet Idyll and the Rue St-Denis Epic
Part Five: Jean Valjean