Meeting Marius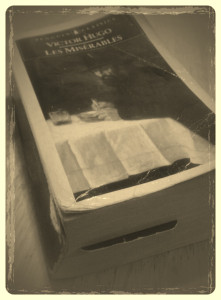 I'm re-reading Victor Hugo's Les Misérables after 20 years. Start with part 1, or read on.
After meeting Gavroche, we're told that we will learn about Marius Pontmercy. As it happens, though, we're instead introduced to Monsieur Gillenormand, an old upper-middle-class man of 90. He's one of those people who are interesting because of their age, and "peculiar because whereas they were once like everyone else they are now like no one else."
Still in perfect health, he has two emotional states: happy/mocking, and furious. He loves to tell story of how he escaped the Revolution with his head intact, but for once Hugo doesn't relate the tale to the reader. He hates the Revolution, the Republic and the Empire, and he hates that his son-in-law fought for Napoleon.
Marius' aunt is so prude that she's haunted by the memory that a man once saw her garter.
An ex-servant of his claims he fathered her baby. He insists he didn't, but also insists that he could have done the deed even at his advanced age, and takes the child in anyway…until she drops a second baby on his doorstep and he sends them both back. He still pays a stipend on the condition that she not do it again. (Added. When I read through this section I thought it sort of funny but not enough to comment on, but it turns out that La Magnon comes back.)
Anyone walking through the little town of Vernon in those days, and crossing the beautiful stone bridge which, let us hope, will soon be replaced by some hideous construction of cables and girders…
Georges Pontmercy's distinguished military career includes one battle alongside Victor Hugo's uncle. For someone who doesn't like to speak of himself, he sure sneaks in a lot of references to "the present writer."
Upon Marius' mother's death, Gillenormand demands custody from his father under threat of disinheriting the boy. He agrees, but every few months visits Paris to sneakily steal a glimpse of his son. Both Marius and Cosette are given up by a single parent for their own good.
M. Gillenormand is part of a salon of mostly returned aristocrats, described as being in their 25th year of adolescence. This is the only real experience of the outside world that young Marius gets.
Ultraism (n): To be so vehemently for something as to be in fact against it.
Nice. After years of intercepting his letters and telling Marius that his father is a no-good brigand, M. Gillenormand finally tells him to go see him…on his deathbed. Marius arrives too late. He's unmoved, however, having believed himself abandoned rather than surrendered.
Not long afterward he has a chance meeting with one of his father's friends, Pere Mabeuf, who remarked on his surreptitious visits, and Marius realizes (1) he's been lied to, and (2) he's been wholly unfair to his father. He starts researching, and changes his opinions not only of his father, but of Napoleon and politics in general. Because he was so sheltered and shown only the negative side, he ends up being the more strongly for his father, the Republic, the and the Empire. It's the zeal of the convert. "What was right seems wrong, and what was wrong seems right."
Nowadays you might call him radicalized.
Marius has been disappearing off somewhere. When G. approves of Marius' cousin because he'd never "go gallivanting after some shameless hussy," "Théodule grinned the grin of a pickpocket commended for honesty."
They finally fall out when Gillenormand talks Théodule into spying on him, and finds out that Marius has been visiting his father's grave and not just sneaking out to see some girl. Next, in Part 15, Marius gets to know some ABCs. Students, that is.
Pages covered: 512-554.