Cozy Classics: Les Misérables (Review)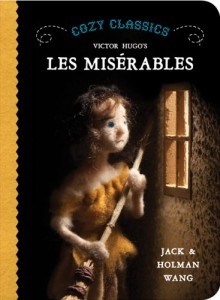 Last year, a friend gave me Cozy Classics: Les Misérables for Christmas, an adaptation by Jack Wang & Holman Wang, along with their version of Moby Dick. Well, ostensibly they were for my son, who was three years old at the time. Cozy Classics is an odd idea, but an appealing one to someone with a geeky disposition, an interest in literature, and kids.
It's a board book, and it brings "abridged" to a whole new level: The story and characters are distilled down to just twelve words, which are illustrated with cloth dolls and scenery. The idea is that you can read them to babies and toddlers, or children who are just beginning to read can do so on their own, and they can get a sense of the story.
As usual, it focuses on Valjean vs. Javert, Cosette, and Marius. The book has some good pairs of words for contrast, though of course aimed at small children, they shy away from the darker side. (That said, there's a great image of felt-doll Marius holding a torch to a barrel at the barricade, labeled simply, "Fire.") The images are adorable.
I'm not sure how much they're really meant for children and how much they're meant for parents. Still…the other day I was moving a bookshelf, and my son (now four) was helping me stack the books. He picked up Moby Dick and proceeded to read it to me. It's hard to argue with that!