We spent a lot of time exploring the Kona coast, where towns manage to be both beach towns and mountain towns at the same time. It's simplest to think of the island as one huge mountain (though there are really four mountains on the island, with a fifth, Kilauea, working its way up). The land just climbs up out of the sea and it's easy to get several thousand feet up without going very far inland.
On our first full day, we just headed south to see what we could find. We randomly turned down Napo'opo'o Road, which while acceptable by rental-car standards, was a very winding road with lots of drop-offs. The road leads to Kealakekua Bay, a major kayak launching point, where we stopped and got a view across the bay.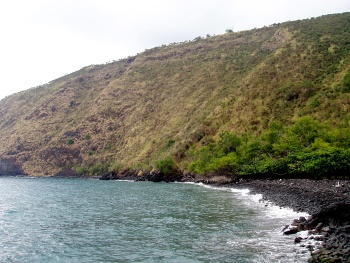 This shot quickly became my new desktop background on the laptop. Way off to the left (not visible in this photo) is the obelisk marking the spot where Captain Cook was killed by Hawaiians in 1779. Right by the road are the remains of the Hikiau Heiau (a heiau is a Hawaiian temple), where Cook read the burial rites for one of his sailors.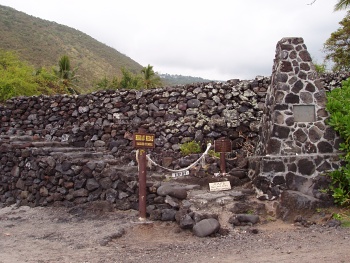 According to guidebooks, this was also the site of Napo'opo'o Beach until Hurricane 'Iniki washed away all the sand in 1992.
Back closer to town, there's a great scenic point off of Kamehameha III road (which connects Ali'i drive along the coast to Highway 11 a few miles in and up). We caught a sunset here the first evening, and we stopped by to check out the city lights (such as they were) on the drive back from Volcano and interrupted a couple having a midnight rendezvous.
There are a lot of great views along the shoreline in Kailua itself. At one point we stopped in Hale Hulawai Park, and I caught these photos of Oneo Bay and Kailua Bay: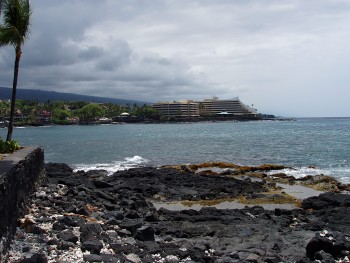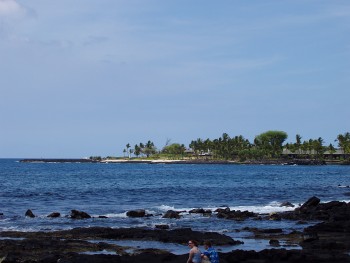 This is a view from the Kailua pier. The water's so clear you can actually see features beneath it. I'm not sure exactly what the park is, but it's next to the 'Ahu'ena Heiau, which was apparently King Kamehameha's personal heiau dedicated to the god Lono—yes, the one Captain Cook was mistaken for when he showed up.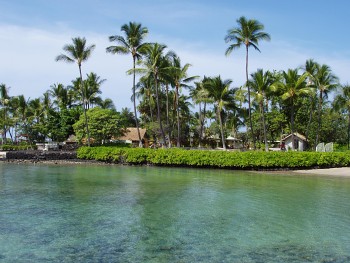 Edit: And here's the heiau: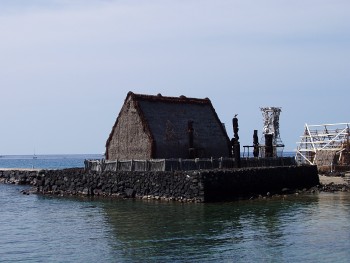 We didn't actually make it to any of the historical sites in town. Something for the next trip, whenever it may be…
These photos were taken from April 4-6, 2005
Update: I've posted higher-res photos on Flickr.