We didn't get to see much of the Hilo side of the island. Our last day there, we checked out of the hotel and just started driving, figuring we'd just see how far we could get before turning back to make our flight. We did actually make it to Hilo itself—just in time to turn around. (It was a Sunday anyway, and supposedly there isn't much open in Hilo on Sundays.)
When we first crossed through Waimea to Hamakua, we took a side trip north to the lookout for Waipio Valley. The valley itself is unreachable without 4-wheel drive (the road has a 25% grade), but the view from the lookout was incredible: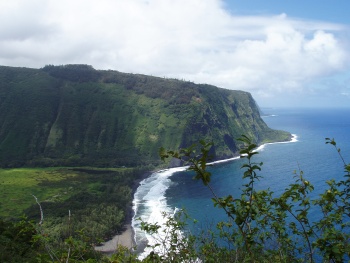 The entire coastline is beautiful, as you can see from this point somewhere along the Hilo or Hamakua coast. (We really should have been keeping track of signs or mile markers. I couldn't have named this spot by the time we reached the airport.)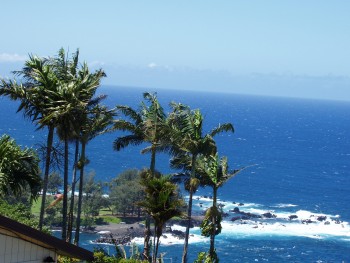 The eastern side of the island gets tons of rain. We lucked out in getting there on a clear day, but the signs were everywhere in the gorges cutting through the seaside cliffs, the many streams and waterfalls. This next one wasn't even a turn-out—we just pulled over to the side of the road and walked back to the bridge.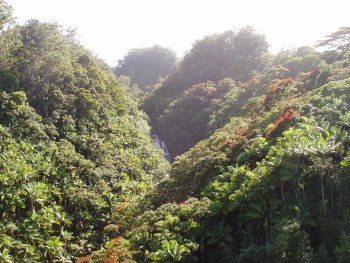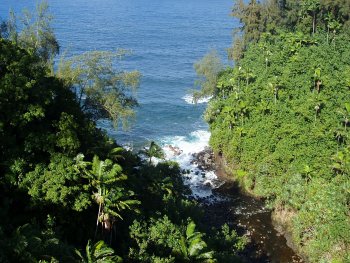 We drove inland a bit to visit the 420-foot-high Akaka Falls.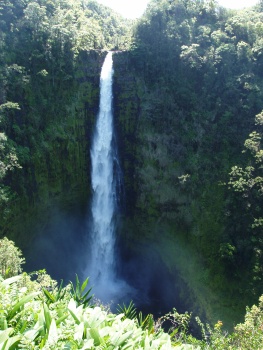 The overlook for the falls is reached by a short loop trail through a rain forest, which also passes a vantage point for Kahuna Falls. We took about 20 photos on that "hike"—I mostly shot plants, and Katie mostly shot the streams we crossed. This picture replaced Kaleakekua Bay as my wallpaper on the Powerbook: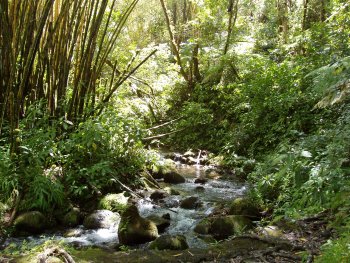 And finally, just to prove we made it to Hilo, here's a beach just outside of town: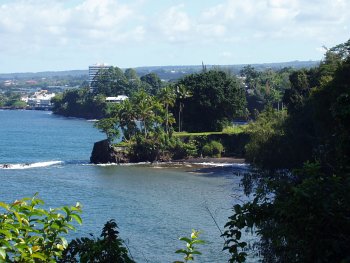 Note: This trip was Sunday, April 10, 2005.
Update: I've posted higher-res photos on Flickr.