From time to time on our morning (and sometimes evening) commute, we've spotted a multicolored blimp. Sometimes it's in the air, sometimes it's parked on a field.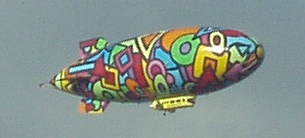 For obvious reasons, we've started calling it the "puzzle blimp."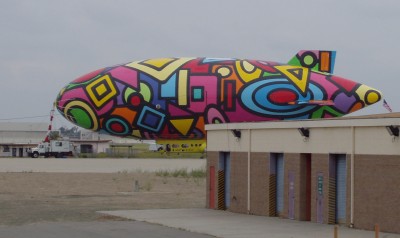 We kept wondering just whose blimp it was. There was no logo we could see, and blimps are mainly used for advertising. Well, that last photo we caught turns out to have the answer:



It's apparently Ameriquest's "Airship Liberty" [archive.org] (or "Soaring Dreams," depending on which part of the site you look at), described as "one of Ameriquest's flying symbols of the American Dream of homeownership." Okaaay, it's distinctive, I'll grant you that… but it's not exactly identifiable. After seeing it four times over the course of two months and snapping a digital photo with the zoom on, we were able to read the logo on the cabin, then go to Ameriquest's website and look for info.
Update: The site says "one of…" because they have another blimp, "Airship Freedom," which is mostly red, has a blue and white star field on top, and a giant Ameriquest logo on the side. That's a little more identifiable.