Flashback to April and Hawaii. On the day we drove to Kilauea we stopped at various places along the way. And since it's a nearly-100-mile drive from Kailua, there was a lot to see.
We never made it down to South Point (the southernmost tip of the island), partly because of time and partly because—believe it or not—our car rental contract forbid us to drive on the 12-mile road out to the point! Supposedly it's poorly maintained—or it used to be, and the policy hasn't kept up—and they don't want the wear and tear on cars that aren't designed for it. As I recall, rental trucks and SUVs don't have the restriction. This was the closest we ever came to it, and you can only barely see it way off in the distance.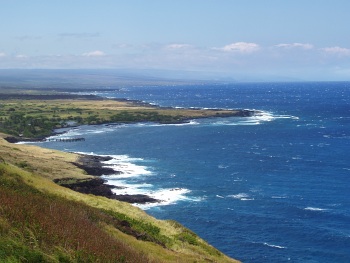 If you look at the end of the spray near the visible point, then go straight up toward the horizon, you'll notice that the sky-sea line dips downward slightly and there's a faint darker patch of sky. As far as we could tell, that's the promontory heading out toward South Point. Even then, we weren't quite sure. Update: It's not. I checked the map when I finally uploaded these images to Flickr, and the highway doesn't get close to the ocean on the west side. It's a viewpoint near Haleokane, east of Naalehu and east of the turnoff to South Point Road. We'd already passed it!
The southern coastline of the island is full of rocky cliffs. Add in the wind that flows westward over the island, and you get some spectacular spray from the waves. It seemed that just about everywhere along that stretch of coast there were little coves, foam, and spray launching dozens of feet into the air. It's just so hard to catch with a camera.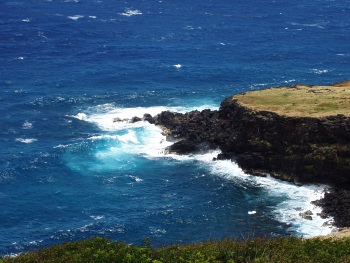 One of the places we stopped was Punalu'u Black Sands Beach. Black sand beaches form when lava breaks into small enough pieces for waves to break them down into sand. Unlike white sand beaches, where the sand is made up of coral, black sand beaches have a finite lifetime. Once all the sand is washed out to sea, it's gone. There are green sand beaches on the island too, but we didn't get a chance to see any of them except by looking out the window of our plane as it approached Kona.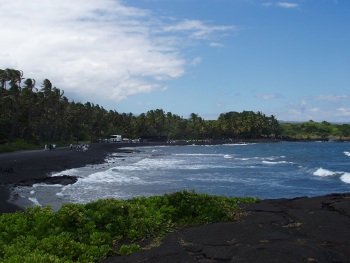 There was a little shrub all over the beach that reminded me a bit of jade for some reason, though there's really not much resemblance. A little digging in A Pocket Guide to Hawai'i's Trees and Shrubs, and I've identified it as beach naupaka. You can see it in the foreground.
While at Punalu'u, I walked out onto the rocks to try to get pictures of the spray up close. Unfortunately the camera's delay made that nearly impossible. There was a time when the water came a little bit too close, and I backed away in a hurry trying to avoid it without twisting my ankle! This is the best shot I got, but it was often three times that height.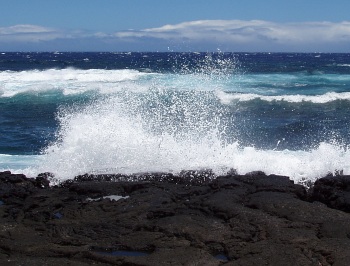 The view inland proved quite a contrast, especially with the cloud cover we had while we were there.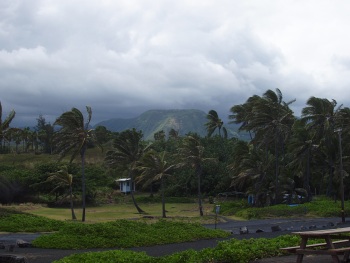 Oh, I may have mentioned this area gets a lot of wind?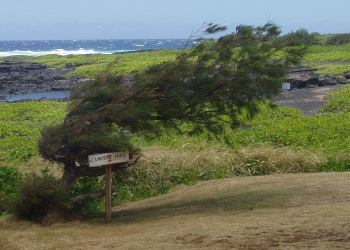 The sign says, "Camping Area." I'm not entirely sure how you'd keep your tent from flying away, judging by that tree.
Note: This trip was Thursday, April 7, 2005.
Update: I've posted higher-res photos on Flickr.