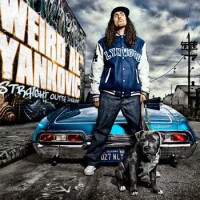 Last night we went out to the Orange County Fair to see "Weird Al" Yankovic in concert (the Straight Outta Lynwood Tour). I don't remember how we managed it, but we got tickets for the fifth row, putting us about 10 feet from the stage. We were off to the side, maybe 20–30 feet from Al's microphone, but still, it was the closest we'd ever been at a stadium concert.
(Being off to the side put us right by the speakers, which was an odd experience, as the drum beats resonated at the frequency of the human ribcage. On percussion-heavy songs, it was sort of like having an audio pacemaker.)
As always, he put on a fun show. If you haven't seen him in concert before, all the major songs are done in full costume, with comedic video clips (mostly from his mid-1990s TV show) running between sets to allow time for costume changes. In the middle of the show, he always does a medley of other songs, just to get as much in as possible into a 2-hour concert.
As for being near the front, thankfully he didn't come to our section for the audience-walk during "Wanna B Ur Lovr," (a truly annoying song). We did get covered with red and white streamers at the end of "Canadian Idiot," and (speaking of Monopoly money) fake $100 during "I'll Sue Ya."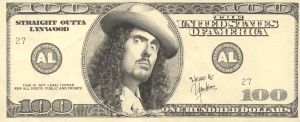 One surprise: A couple of minutes into "White and Nerdy," he suddenly stopped, said, "There's no reason to do this song. Radio, Radio"—and the band proceeded to do a straight cover of Elvis Costello's "Radio, Radio." During the encore, he explained they'd had some technical difficulties, and did the song from the beginning (though without the costumes and the Segway).
Another surprise: He performed "Albuquerque." All 10 minutes of it. *shudder*
After the concert we explored the fair a bit, then left to go to Borders to pick up Harry Potter, leading to the second part of this story…
For now, I'll leave you with this final thought: We all have cell phones, so come on, let's get real.