We've been following singer/songwriter Butterfly Boucher since 2004 — in fact, since the first day we tuned in to the now-defunct Indie 103.1 and heard "Another White Dash" for the first time. We caught her opening for Barenaked Ladies a few months later and picked up her album, then caught her again opening for Sarah McLachlan later that year. Her second album, "Scary Fragile", finally came out on Tuesday (it's very good — Katie says it may be the best sophomore album she's ever heard), and she's doing a concert tour. She's playing in Los Angeles most of this month, but timing worked out better for us to go see her in San Diego on Saturday. So we bought some tickets and made a weekend trip out of it.
Historic San Diego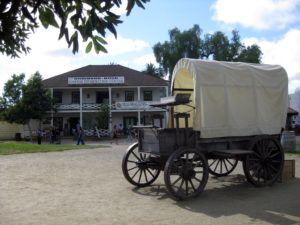 We drove down after lunch on Saturday and hit Old Town San Diego on the way in. (More Highlander Grog!) I could swear I don't remember having trouble finding it before, but the last few times it's been hard to get to even following a map. At least we managed better than we did in December, when we ended up several miles inland before we could find a place to cross the inlet.
I don't remember much going on the last time we were there, but this time Old Town was in full-on living history mode, complete with tour guides dressed up in 1800s outfits and a horse-and-buggy ride.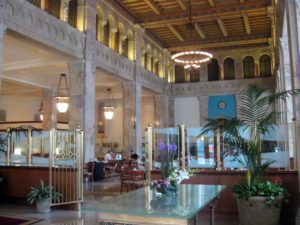 I'd booked the Courtyard San Diego Downtown because it's literally next door to the House of Blues. It took a while to negotiate the one-way streets, but once we arrived, we stepped inside and were blown away by the lobby. It turns out that the hotel used to be the building for the San Diego Trust & Savings bank. After the bank closed in the 1990s, Marriott bought it and converted it to a hotel. The vault, safe deposit rooms, and other rooms on the first floor became a conference center, and the offices on the upper floors became guest rooms. They've preserved as much of the old look of the place as possible, down to keeping the mail slots on the former office doors. (Don't worry, they're blocked.)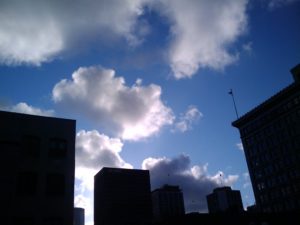 We ate dinner at Chopahn (6th Ave. near F St.), an Afghan restaurant we first visited during last year's Comic-Con. It was empty when we got there, which I hope was just because we were there on the early side, because the food is great. Another couple arrived while we were eating, but they were the only people we saw other than the waitress. She had started pushing tables together as if they were expecting a larger party later on.
After dinner we wandered the Gaslamp district for a while. I kept making notes of where various hotels or restaurants were located. Eventually I realized I was basically scouting for Comic-Con next month.
Around 7:00 we made our way to the House of Blues.
Concert
That's when we discovered that we'd been under a misapprehension about the nature of the venue. The only House of Blues we'd been to before was the one in Anaheim at Downtown Disney. It's a big room with a stage, a balcony, and bars around the edges. I expect the main hall here was probably the same, but Butterfly Boucher was playing the "small room." I assumed that meant a smaller room of the same type, but really it meant there was an 8-foot-wide stage in the dining area of the bar (the "Voodoo Stage"). Which would have been great if we hadn't just had a huge dinner. So we ordered drinks, sat and talked, and eventually ordered some sweet potato fries and nibbled.
Note for next time: Arrive at the printed time, grab a table and order dinner there.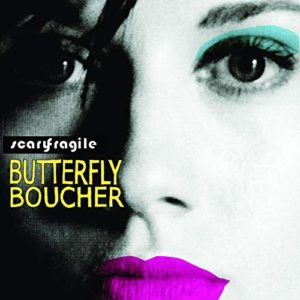 From the back of the stage to the edge of the bar can't have been larger than our living room, and we don't have a very big living room. It was like listening to someone play at a coffee house, only with better acoustics and most of the people were there to hear them sing. It was a huge contrast to the last time we saw Butterfly Boucher live, from the top section of what was then the Arrowhead Pond (primarily a hockey stadium).
The first opening act, Dawn Mitschele, played a half-hour set starting at 8:00, and the second, Derek Evans, started after about a ten-minute break. They both had a more country-folk sound, which kind of surprised me, since Butterfly Boucher is more rock. They're both locals, and I wondered whether they might be following her up to LA.
All through the evening, teenagers in formal wear would come walking down the hall past the stage. It turned out that a high school was holding its prom in the main room at the House of Blues. At one point one woman in the audience (of two who did quite a bit of dancing later on) shouted out, "Hello prom people!"
Butterfly (yes, that is her real name) came out around 9:30, spent a few minutes setting up her equipment (including the loop pedal she jokingly referred to as her backup band) and tuning her guitar, then launched into about an hour-long set of music mostly from the new album — though she did break into "Another White Dash" (with an audience participation section) and "I Can't Make Me" in the middle.
She clearly hadn't expected to do an encore, but we all kept applauding, and she came back out to sing "Life is Short," explaining that she hadn't rehearsed it in over six months and might need help on the lyrics…
After the show we waited in line to meet her, bought a copy of the CD which she signed, talked to her for a few minutes and posed with her for a photo.
Nightlife
After the meet-and-greet, we headed down to the Ghirardelli shop. Ever since the one in South Coast Plaza closed, I have this thing where if I'm in a city with a Ghirardelli store, I have to go there. Neither of us was up for dessert, but they do have a wider selection of their chocolate than you can find in the grocery store.
As typical for a Saturday night, 5th Avenue was absolutely packed with people of all ages and levels of dress going to and from clubs, bars, and restaurants. We dodged over to 6th street on the way back up, but even then ran into a huge crowd around Sin Niteclub [sic] and the Double Deuce. Through the latter bar's windows we could see a guy trying to ride a mechanical bull. Some of the women we saw walking around had given up on their shoes and were barefoot. Though walking barefoot on the streets of any major city doesn't sound like a great idea, no matter how much your feet hurt. Eventually we made it back to the hotel.
Sunday Morning
Cafe 222 (2nd Ave. and Island) has quickly become one of our standard spots for breakfast in San Diego, at least when we're staying downtown. Afterward we hit the farmer's market (every Sunday morning at 3rd Ave. and J St. — take note, Comic-Con attendees) where we picked up some blueberries and cherries to bring home. Nothing much in the way of stores were open yet, and we had make it up to the LA area for lunch, so we checked out, made another quick stop at Old Town to look for a store we'd stumbled on last December, and got back on the road.
More photos at Flickr, mostly Old Town and some weird stuff in the Gaslamp area.