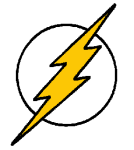 In 1991, DC released The Greatest Flash Stories Ever Told, part of a series of hardcovers collecting classic stories about their signature characters. It was reprinted in softcover a few years later, but both editions have been long out of print. When DC started releasing new "Greatest Stories…" books last year, I figured it was only a matter of time before they released a new edition. Yesterday, DC announced that Flash: The Greatest Stories Ever Told will appear in July of this year:
THE FLASH: THE GREATEST STORIES EVER TOLD TP
Writers: Robert Kanigher, Gardner Fox, John Broome, Cary Bates and Mark Waid.
Artists: Lee Elias, Carmine Infantino, Ross Andru, Irv Novick, José Luís Garcia-López, Kurt Schaffenberger, Alex Saviuk, Mike Wieringo, Joe Giella, Wallace Wood, Joe Kubert, Frank Giacoia, Mike Esposito, Murphy Anderson and José Marzan Jr.

Collects stories from FLASH COMICS #86 and 104, THE FLASH #123, 155, 165 and 179, DC SPECIAL SERIES #11 and THE FLASH (Second Series) #91.
$19.99 US, 208 pages
I pulled out my copy of the 1991 edition, and it's fair to say this is an entirely different book. There are only two stories in common: "Stone Age Menace," and "The Flash—Fact or Fiction?" The new book is also about eighty pages shorter than the old one.
Here's the character breakdown:
Both books are very heavily focused on Barry Allen, and each includes just one story with Wally West as the Flash. Flash: The Greatest Stories Ever Told includes two crossover stories: "Flash of Two Words" features both Barry and Jay, and "Beyond the Super-Speed Barrier" features all three during Wally's days as Kid Flash.
So, assuming the contents are final, do they hold up to the title's promise?
Flash Comics #86 (1947): "Stone Age Menace." One of the two stories that appear in both volumes, this features Jay Garrick battling a dinosaur and getting framed for stealing a valuable meteorite fragment. One of the better Golden Age Flash stories I've read. Crimson Lightning recently featured this issue's cover in its Classic Covers series. Check.
Flash Comics #104 (1949): "The Rival Flash." The final issue of the original series, this story features a new super-speed crime boss and his swift-footed gang. The Rival, a proto-Reverse Flash, was forgotten for half a century until Geoff Johns brought the character back in the pages of JSA. (This is also available in, oddly enough, The Flash Archives vol.1) Check.
The Flash #123 (1961): "Flash of Two Worlds." No question this belongs in the book. It tells the first meeting of Barry and Jay, introduces the DC Multiverse, and it affects the DCU to this day. All this, and a good story, too! (This probably should have been in the previous collection, but DC put it in The Greatest Team-Up Stories Ever Told instead.) Check.
The Flash #155 (1965): "The Gauntlet of Super-Villains." The first story in which the classic Rogues Gallery comes together as a team to battle the Flash. Check.
The Flash #165 (1966): "One Bridegroom Too Many." Barry finally marries Iris West… but Professor Zoom tries to take his place. Guest star cameos galore. Maybe.
The Flash #179 (1968): "The Flash—Fact or Fiction?" While fending off a bizarre creature, Barry finds himself in a world where the Flash is just a comic book, and comes face to face with his own editor. Fun silver age, and introduces Earth-Prime. This is the other story repeated from the original volume. Check.
DC Special Series #11: Flash Spectacular 1978: "Beyond the Super-Speed Barrier." This is an 80-page story broken into chapters focusing on Jay Garrick, Barry Allen, and Wally West (when he was still Kid Flash). It opens with the execution of Grodd (in a manner inconsistent with the usual portrayals of Gorilla City) and runs from there. This story is notable for Jay revealing his identity to the world, and for Wally revealing his Kid Flash career to his parents. I'm not sure it's a good choice for this collection, though. It's kind of like including a 25-minute song on a "Greatest Hits" album. Bzzt!
Flash vol.2 #91 (1994): "Out of Time." The only story in the book from Wally West's solo career. The Flash decides he needs to be even faster, and tries to use Johnny Quick's speed formula. He ends up literally stuck in a moment, and only cryptic hints from Max Mercury can help him figure out how to get time flowing again. It's a good issue, and I suppose if you had to pick a single one-shot to represent Wally's career, this would be on the short list. Check.
The Verdict: Overall, it's a good collection of stories.
Given the page constraints, I can't begrudge any of the choices except for "Beyond the Super-Speed Barrier." Dropping that would have made room for another four stories—or eight, going by typical Golden Age or Silver Age story length. As it is, between that story and the shorter total length, the table of contents for Flash: Greatest Stories is half as long as the one for Greatest Flash Stories. On the plus side, it does have solo chapters focusing on all three Flashes with a track record, and Johnny Quick guest stars in Jay's chapter.
Also, it would have been nice if they'd managed to include at least one Golden Age story that wasn't already available in reprint. But that's just my wish list coming into play.
Alas, there's no Bart Allen in this book, either… with the possible exception of a silhouette. The one story they managed to find from Wally's 20-year career was the issue before Bart was introduced, but the issue finished with a two-page teaser for Impulse's origin story, "Reckless Youth." It's not part of the preceding story, so they might not include it, but if they do, Bart will make it just under the wire.