This morning I read about Blog Action Day, a campaign to get thousands of bloggers to write about the environment on October 15. I've actually got a draft post I've been working on that would fit the topic, so it's an easy choice to make.
And for those of you who need a different kind of motivation, there's a quiz: What kind of blogger are you?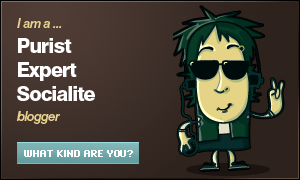 I think that's probably the first time I've ever been called a "socialite." Frankly, I'm a bit disturbed. (And is it just my imagination, or does the drawing on that badge look a little like Neil Gaiman?)
Update Oct. 15: Here's my post on water conservation in California. It's actually not the one I had in mind, which I decided wasn't quite on target, but I had some other ideas bouncing around in my head.
Update September 2008: They've taken everything down from 2007, including the images for the quiz results. I pulled a copy of the banner from the Wayback Machine and uploaded it locally.
(via Opera Community)