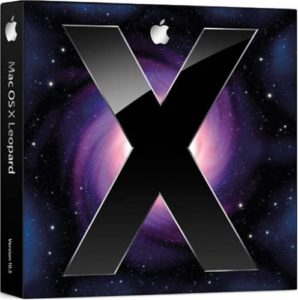 The new Mac OS X disc arrived in today's mail. I opened it up to make sure everything was there, and was surprised to see that Apple has really cut down on packaging. Instead of the ~8×10″ box with folds to keep the disc and manual in place, they've gone to a small box the size of a cardboard CD case. Just enough room for the DVD and the "manual" (which is mainly a "Look what's new!" booklet).
"So," I said. "I have to ask myself. Do I feel lucky?"
"Well," Katie replied. "Do you? Punk?"
"What the heck."
I'd done some research on application compatibility earlier this week, and the PowerBook looked ready. Katie's desktop is going to need further study. The Mac Classic environment will no longer run under Leopard, and she's still got a couple of Classic apps she pulls out occasionally. Also, Photoshop 7 is reported not to run under Leopard, and Adobe isn't testing or updating anything older than CS3.
But the laptop? No critical data to back up (it's all duplicated from the desktops), and everything we actually use on it has been tested on at least a pre-release.
So I fired up Netscape 4 for old times' sake (and discovered that this theme is completely unreadable in it; then I switched the CSS around so that Netscape 4 won't even try). Then I popped in the disc, selected some options, and let it install during Pushing Daisies.
No problems so far. Disk space is running low, but it's a 3-year old laptop (so the drive is small) and I did an Archive and Install, so it has a backup of the old OS. Once it's clear that everything works, I can free up ~6GB right there. It may also be time to wipe the Yellow Dog Linux partition. I haven't used it in over a year.
Some highlights: I really like finally having virtual desktops (what Apple calls "Spaces"). The new search highlighting, previously seen in the Safari 3 beta, appears in other apps as well. Heck, Safari 3 is a big jump itself. (Hey, Apple, where are the Windows and Tiger releases?)