After many delays, Apple has finally announced the release date for the next version of Mac OS X, a.k.a. Leopard. It'll hit the shelves in just 10 days, on October 26—roughly 2½ years since the previous release.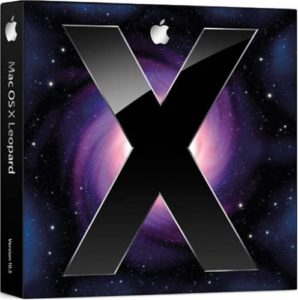 I'd planned on pre-ordering it from Amazon, since I have no interest in standing in line at an Apple store (though that may have been unique to the iPhone), but I've been holding off until the requirements were finalized. We've got two Macs, one desktop and one laptop, both G4s, and the desktop is old enough for compatibility to be a question. And while the 5-license "family pack" is still less than twice the cost of the single-license box—$199 vs. $129—I only want to spend the additional $70 if we can use it.
Fortunately, even the desktop meets the minimum requirements, so it's not quite obsolete yet.
At least I shouldn't have to repeat the shipping snafu I had with Tiger. The leasing office will hold packages now, so even if UPS (or whoever) does try to deliver while no-one's home, I should be able to just pick it up instead of spending 4 days trying to get it delivered to the right place.
It's funny: When Microsoft releases a new OS, my inclination is to sit it out and wait for the first service pack, usually a year or so in. When Apple or Fedora releases a new OS, my inclination is to upgrade as soon as I have the time. Even though all of them have had histories of significant problems on one release or another—the broken video driver I ran into on Fedora 7, for instance, or the firewire drives fried by one version of Mac OS X.
I'm not sure why that is. Maybe it's trust. Maybe it's speed of the fixes: Linux vendors will have updated packages within days to weeks. (Heck, some Linux distros have updates available by the time the ISOs go live, because a bug was fixed after the contents were frozen.) And you can count on a Mac OS 10.5.1 in a month or two. Maybe it's the scale of problems. You risk things like broken drivers or software with anyone's major OS upgrade, but Windows always seems to have some problem that's bigger than just a bug fix, something that needs more time and effort to redesign. In short, something that won't get fixed until the next service pack.
Edit: It occurs to me that since Leopard will include the new release of Safari, we'll probably also see the final release of Safari 3 for Windows next week.