Taking a break from the fire commentary: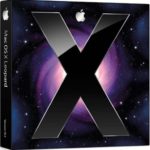 Apple: Finally pre-ordered Mac OS X Leopard, removing the temptation to run out to an Apple store or Fry's this weekend (though I've been meaning to put some more RAM in the Windows box). Saved a few bucks by ordering from Amazon ($10 off the family pack, would've been $20 off the standard box), and picked the free shipping so that I won't be tempted to install it until there've been a few days' worth of bug reports.
Meanwhile, I'm wondering when Safari 3 comes out for Windows and Tiger. Tonight at 6:00? Monday? I'm looking forward to this putting some of the new CSS3 capabilities into the hands of potentially 5% of the web audience.

Opera: Speaking of web browsers, Opera 9.5 beta came out yesterday. In addition to lots of work on rendering & site compatibility (as seen through the last few weeks' worth of alpha releases), they've launched a new service called Opera Link. It's primarily a bookmarks sync service, plus a web-accessible interface. So you can automatically sync multiple copies of Opera—including Opera Mini—and also be able to access those bookmarks from Firefox, IE, or a computer where you're a guest (friend, computer lab, cafe, etc.). I think the biggest impact here is going to be syncing between the desktop and phone, like Safari on the desktop and the iPhone.
On the other hand, imagine adding a bookmarklet or Firefox extension to more easily update from—or even fully sync with—other browsers. Or better yet, a way to synchronize Opera Link with, say, del.icio.us, which can integrate fully with both Firefox (via an extension) and Flock.
Spam: I'm astonished that, with the amount of comment spam that hits this blog (many thanks to Bad Behavior and Spam Karma for helping stem the tide!), I've only netted 7 comment spammers for Project Honeypot since they started tracking comment spam 6 months ago. I guess the software is smart enough to only hit the real forms?
WordPress: Just released version 2.3.1 with a bunch of bugfixes and (of course) a security fix. Updated.