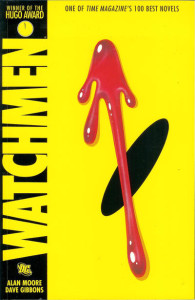 DC Comics has posted a list of 30 Essential Graphic Novels (that are published by DC or one of their imprints).
I've read:
Watchmen
The League of Extraordinary Gentlemen vol. 1 & 2
V for Vendetta
Sandman vol. 1: Preludes & Nocturnes
Sandman: Endless Nights
Fables vol.1: Legends in Exile
Batman: Arkham Asylum
Batman: The Long Halloween
Batman: Dark Victory
Batman: The Dark Knight Returns
Batman: The Dark Knight Strikes Again
Kingdom Come
Identity Crisis
JLA vol.1: New World Order
Crisis on Infinite Earths
Transmetropolitan vol.1: Back on the Street
I haven't read:
Superman for All Seasons
Superman: Birthright (but it's on my to-read list)
Superman/Batman: Public Enemies
Batman: Year One
Batman: Hush vol.1 & vol.2
Green Lantern: Rebirth
The Quitter
Hellblazer: Original Sins
Y: The Last Man vol.1: Unmanned
Kamikaze Kaito Jeanne
Sword of the Dark Ones
Ex Machina vol.1: The First Hundred Days
The list is a bit heavy on Batman at a full 25% of the titles. And since it's roughly 50/50 super-hero stuff and, well, other stuff, that means half their "essential" super-hero books are Batman. Come on, DC, show people a few more facets of your line!
On the plus side, they've chosen just one volume each for series like Transmetropolitan, Fables, etc.—so they can recommend as many different series as possible—and it's the first volume. Unlike the well-known super-hero books, where the average potential reader probably knows enough to hit the ground running, it helps to start at the beginning, with a book that's specifically designed to introduce each concept. And many of them are big, long stories. You wouldn't recommend starting Lord of the Rings with The Two Towers, you'd tell someone to start with Fellowship of the Ring or get a combined edition.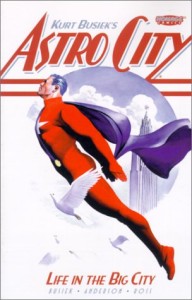 Personally, I'd drop The Dark Knight Strikes Again (does anyone really consider it a "must read?") and possibly the second volume of The League of Extraordinary Gentlemen. Maybe even Endless Nights, though I suppose it represents the overall tone of Sandman better than the first book does. Maybe Dark Victory, since it's essentially a continuation of The Long Halloween. With the Justice League, I might replace New World Order with Rock of Ages.
I'd add the first Astro City book, no questions asked. For the other space(s), I'd plug in something less well-known, but highly regarded. Maybe some more WildStorm, like Planetary
or The Authority Or how about a another DC hero, like Wonder Woman, Starman, or the Flash?