We went to The District on Saturday afternoon to catch Cloverfield and check out the Auld Dubliner. I took the Warner exit to go in the back way, and noticed someone standing out on the shoulder of the ramp, taking photos. I looked out past the wide expanse of empty fields and was astonished to see the entire San Gabriel mountain range covered with snow!
Not just the tops of the mountains on the eastern half of the range, but everything, even the lower parts you can just barely see by the Cajon pass, and this huge expanse north of Los Angeles that I'm not sure I've ever seen covered.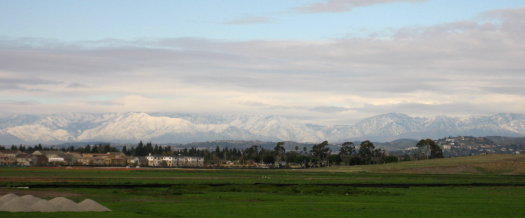 I pulled over as soon as I found a spot I considered safe, then walked back up to the top of the ramp. I talked briefly with the man I'd seen taking photos, and he said he'd lived in the area for 50 years and had never seen the mountains like this. He also mentioned he had a friend who had served at the base*, and he was going to send him the pictures.
I ended up taking a 12-photo panorama (zoomed) spanning at least 120° from the blimp hangar on the left, across the San Gabriels, past the hills above Orange and Tustin, the foothills of the Santa Ana Mountains, on to Saddleback, which had a few bits of snow clinging to the mountainside.


Click to view panorama (424 KB 6648×500 JPEG)
*This is the location of the former MCAS Tustin. The Marine base was closed in the mid-1990s, and the land is only just starting to be developed—notably The District in one corner, which is what brought us to the area yesterday.
Update December 18, 2008: This post is getting a lot of traffic today, but it's from last winter. If you want to see photos from this week's snow, check out Misty Mountains: Another San Gabriel Snow Panorama from the same spot on Tuesday, December 16, and my Snowline photoset on Flickr, for those pictures and several of Saddleback and the Santa Ana Mountains today.