Last January when I caught a view of the entire range of the San Gabriel Mountains absolutely covered in snow, I figured it was a once-in-a-lifetime sight. Sure, they get snow every year, but they usually don't get that much snow.
Amazingly, I got to see something similar again today. In a way, even better, because this time the sky was clear, providing better light and an unimpeded view.
After yesterday's rain and a prediction of more showers today, I was surprised to see empty blue sky this morning. While driving over a bridge I looked out the window and saw the mountains just coated with snow. As soon as I dropped Katie off at her office, I made a beeline for that spot near The District in Tustin that (for now) offers an unimpeded view of the mountains that dominate the skyline (on clear days) of Los Angeles County.
By then a few clouds had begun to swirl around in the distance.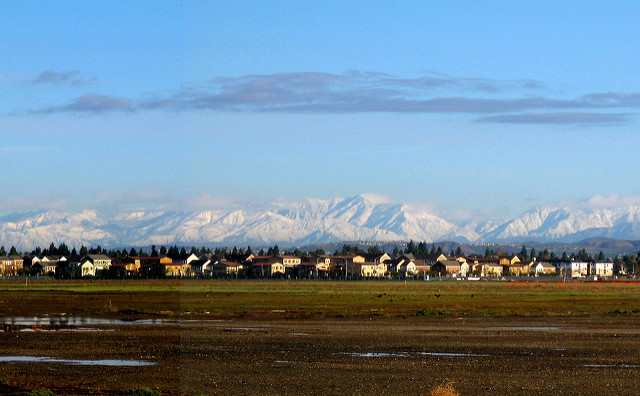 I couldn't tell at the time whether Saddleback had any snow or not, since it was still backlit (this was around 8:20 or so in the morning), so I didn't take any pictures of it.
Here's a panorama of the mountain range. Click on the image below to see the full thing.