We stayed in three different hotels on our trip up to Northern California last week, all of them vastly different.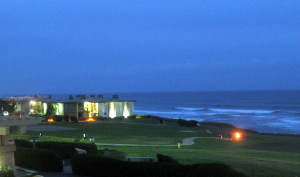 Best Western Cavalier Oceanfront Resort in San Simeon: Excellent. Calling it a resort is pushing it—it's really just a motel—but we had absolutely no complaints. The service was friendly, the bed was comfortable, everything was clean and worked (including the free wifi). It's right on the coast, with a wide lawn atop a bluff where you can sit and watch the waves come in. At night they light up firepits, and you can sit, keep warm, and listen to the ocean. Even the standard room had a well-stocked mini-bar. We've been talking about going back to Hearst Castle to catch the tours we missed, and we'll probably stay here again.
Best Western Silicon Valley Inn in Sunnyvale: Lousy. I forget which one of us came up with the phrase, "The Worst Best Western in the West." The sink leaked, the hotel was on default air conditioning (even though it was ~50°F and raining outside), the heater was a loud, grinding thing that sounded like a truck engine, the bedspread had cigarette burns in it, the towels felt like sandpaper, and the wifi wouldn't accept the password the front desk gave us (which is probably just as well, since there were 4 access points broadcasting the same SSID, so for all I know one of them could've been a rogue). And the staff was taciturn at best. All this for the same price as the Cavalier.
Hotel Mark Twain in San Francisco: Good. It's located in downtown San Francisco, just a few blocks from Moscone Center (about a 10–15 minute walk), and it's a classic hotel. On my brother's recommendation, we paid extra for the "deluxe" rooms. Everything was comfortable, if small, and again the staff was friendly. Never got a chance to try out the Internet access. The one thing I was really disappointed with was the room service. It's hard to eat a mostly-done pork chop with a plastic knife and fork out of a 4-inch-high cardboard box. There was also a loud party in the room next to us Saturday night, but we were up late anyway. On the plus side, there's a coffee shop two doors away that was always packed, though we never had to wait for a table. The rate of people arriving and finishing was perfectly balanced. One caveat: The hotel is located at the edge of the financial district, so you want to leave going uphill on Taylor or east on O'Farrell. If you go downhill on Taylor, you end up walking through the Tenderloin. Update: This is now the Tilden Hotel.