Last weekend was spent in Northern California. During the trip I wrote up Wednesday and Thursday, when we drove up to Cambria and then San Jose for Hearst Castle, the Winchester Mystery House, and visiting friends, spending the night in Sunnyvale.
Friday morning, we checked out of the motel as quickly as we could, then met up with our friends before they left for work. After reminding ourselves of why we don't usually eat at Denny's, we drove up the east side of the San Francisco Bay toward Napa Valley.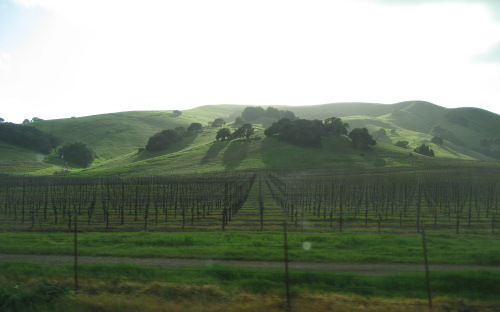 I don't really like wine much, and Katie can't drink it, so we weren't looking for tastings, but Katie had found a sake garden on one of the maps. The weather kept changing from partly cloudy to light rain and back again. The play of light and shadow on the hills made for beautiful scenery. It was somewhat similar to our drive along the 46, which seemed to be half ranches (the west half) and half wineries (the east half).
Unfortunately, the sake garden in question was gone. The building was deserted, and a chain stretched across the driveway. I stopped the car in front of it, and Katie dashed through the drizzle to look at the limp paper sign taped to the post in the middle of the driveway. It was a public notice for a liquor license, in a new name.
We tried to look for another place that did sake tastings, but had no success. We decided to drive into Napa for lunch. Downtown Napa is an odd mix of old and modern. One block looks like Old Town Orange, or Tustin, or Fullerton. Half a block away, there's a shopping center that looks like it could be a section of the Irvine Spectrum. It was more or less dead, which I thought was strange even for early afternoon on a Friday, but we found a place called Christopher's that made wraps and sandwiches, and sold interesting food.
After lunch we made our way west through Napa Valley and Sonoma Valley until we reached the 101. From there we went south (a drive which reminded me quite a bit of the I-5 between Oceanside and San Diego), crossed the Golden Gate Bridge, and checked into our hotel. It was approaching sunset.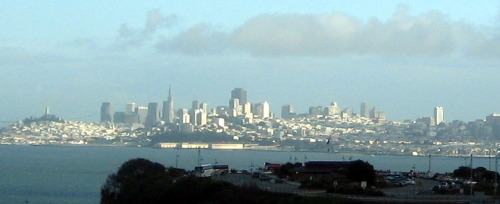 Once we were settled, I called my brother for directions to his place. It turned out he was just getting off work, so we met up at the train station and took the MUNI out to his neighborhood. We met his fiancee, hung out at their apartment for a while, then went out for sushi.
Back at the hotel, Katie did some make-up tests for her Sylar victim costume (which she ended up not using), we got our backpacks in order for the convention, and went to bed.
Saturday is pretty much all covered by the WonderCon convention report.
Sunday morning we went down to the coffee shop next to the hotel, then checked out and started on the long drive home around 11:30. It ended up taking 12 hours for several reasons:
We took the 101 instead of the 5, which follows the coast and is considerably longer. On the plus side, it twists and turns enough to prevent highway hypnosis at night.
It was windy and raining. The storm we'd been expecting all weekend finally hit.
We took a detour to Casa de Fruta, which probably added ~45 minutes of travel time.
And of course stops for lunch, dinner, coffee, etc.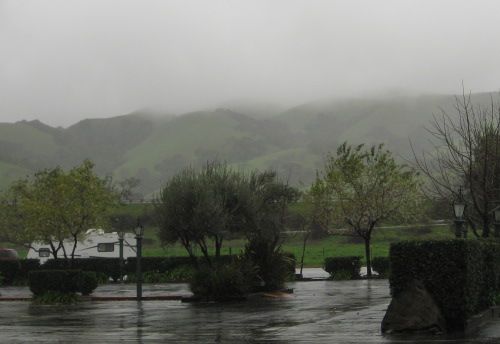 The worst of the rain hit in two places: First, on that detour to Casa de Fruta. I filled up the car there, and got thoroughly drenched even though the gas station was covered. We stopped for lunch, I dried out somewhat, and the rain moved on. The second was near San Luis Obispo, where it rained hard enough at I could barely see the taillights of the car in front. It didn't help that it was approaching dusk.
We stopped for dinner in Santa Barbara, and finally made it home around 11:30.
The Prius handled its first real road trip admirably. We drove 1193 miles in total. The best mileage was on the last leg of the trip home, the final ~130 miles from Santa Barbara, where we averaged 48 MPG. The worst was from San Luis Obispo to Sunnyvale, with the side trip out to San Simeon—full of twisty mountain roads, steep grades, and, when it turned into a full-on freeway, I was pushing the speed to get us to San Jose in time for the last Winchester tour. The car handled everything thrown at it, except two things: a Target shopping cart in Paso Robles, which careened into it and scratched the paint, and a piece of gravel that dinged the windshield. I was seriously annoyed.