I've driven 500 miles in the last 2 days. We're heading up to San Francisco for WonderCon this weekend, stopping along the way to visit friends in Silicon Valley and my brother and his fiancee in San Francisco. We ended up with an extra day at the beginning of the trip, which we used to visit Hearst Castle.
We left around mid-morning on Wednesday, driving through 2 hours of crappy Los Angeles traffic until things finally cleared up out toward Ventura. Along the way we saw something we'd never seen before: Our Prius runs in part on a battery, which is recharged by the gas engine, by coasting, and by braking. It has an 8-bar battery gage that mostly moves around in the 2–7–bar range. Heading down the pass into Camarillo, for the first time, I saw it fill all 8 bars.
We took the 101 most of the way, branching off at San Luis Obispo to take Pacific Coast Highway up to San Simeon. With all the rain we've had this winter, the countryside is amazingly green. The last few times I remember taking the 101 up the coast, it was summer, so the hills were all golden brown. We lucked out with the weather: instead of the constant rain I was expecting from the forecast, we only had scattered showers.
We spent Wednesday night in San Simeon. Dinner was at a restaurant called The Sow's Ear in Cambria, which was very good.

We actually managed to see the lunar eclipse. Sort of. The cloud cover was just light enough to see the bright sliver shortly before totality. It screened out the reddish light completely. I have a blurry picture of the just-as-blurry eclipse.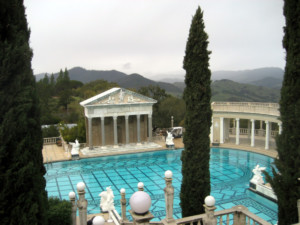 Thursday morning we went to Hearst Castle for the morning's first tour. We didn't get the one we wanted (Tour 2) because it didn't start until 9:20, and we wanted to get to San Jose by 5:00. If I could make one change to their website, it would be to list actual tour times. We got rained on a bit, but it was a good overview of just how eclectic the house is. Basically, if William Randolph Hearst was traveling and saw a piece of a building that he liked, he'd buy it, ship it back to California, and have it built into his house.
After stopping briefly in Cambria, we took highway 46 across the hills to catch up with the 101 and head north to San Jose. Partly I wanted to avoid the long, twisty, cliffside stretches of PCH, and partly we wanted to avoid getting caught in the bike race. The route goes past cattle ranches, empty hills, and wineries. At one point there's a fantastic view of Morro Bay off in the distance. (Update: We took the same drive a year later and caught the view in the sunlight)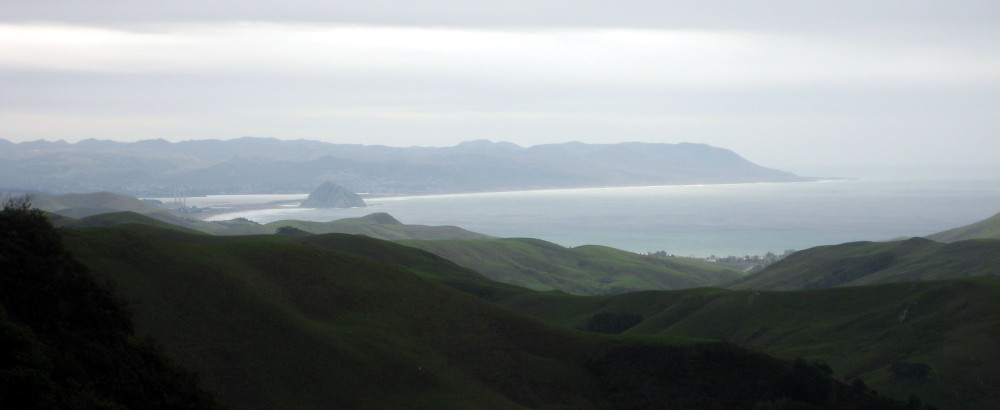 We made it to San Jose around 4:30, and managed to get tickets for the last tour of the Winchester Mystery House. Yes, we toured two big, rambling mansions in one day. It was interesting to compare the way the tours treated the two places. With Hearst Castle, it was very much a museum tour. Everything was preserved as exactly as possible, including all the furniture and decorations, and they admonished you not to touch anything. And the docents were walking encyclopedias. With Winchester, it was much more casual. The speeches felt more canned, and the tour guide wasn't concerned with anybody touching anything except for a few places where the floors or tiles were still original.
After the tour, we met up with our friends for dinner. I don't remember the name of the place, but it was a tapas restaurant on Santana Row. Also quite good. Edit: Katie points out that it was called Consuelo.
Tomorrow: On to San Francisco. Not sure whether we're going to WonderCon on Friday or not—it depends on what else is available (since they keep promising massive downpours of rain)—but we'll definitely be going on Saturday. For one thing, I'm hoping to get to the premiere of Justice League: New Frontier. I really liked Darwyn Cooke's original mini-series linking the dawn of the Silver Age and the dawn of the space age, and what I've seen of the animation style looks quite promising.
OK. It's 11:30. Time to get some sleep.
Update: filling in a few pictures.
Continued in: Saturday/WonderCon and Friday–Sunday
See Also: Convention Photos & Write-Ups