In conjunction with the Safari 3.1.1 security release, Apple has also released a new version of Apple Software Update for Windows. With version 2.1, they've taken the opportunity to fix one of the problems that caused so much criticism last month.
It now shows two lists: one for updates, and one for new software. This takes care of one of the three easy steps that I culled from discussions back in March:
Separate updates from new software and label them clearly. Done.
Leave the new stuff unchecked by default. Bzzzt! Try again!
When run automatically, don't pop up a notice more than once for each piece of not-installed software. [Edit:] Done.
Unfortunately the new software is still checked by default, but one hopes that the separate list would be enough to make people stop, look, and make a conscious choice as to whether or not to install it.
I don't know yet how it handles new software when run automatically, or whether they've made the ignore option apply to an entire piece of software rather than a specific installer. I've taken iTunes off the ignore list and set it to check daily so that I can find out. [Edit:] I haven't seen it pop up in the last 24 hours, and according to eWeek, "Apple will now only prompt the user if there are critical security updates available."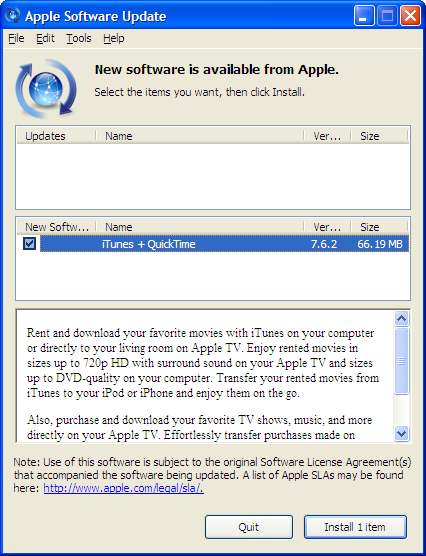 Apple Software Update on a system with up-to-date Safari and QuickTime, but no iTunes.