We went to San Diego this weekend for a company event. The drive down on Saturday was quite nice — much faster than any of the times we've driven down for Comic-Con, for instance. It took us only an hour and 20 minutes to get to Old Town San Diego, and that was with taking the wrong exit and driving two miles inland just to be able to cross the river.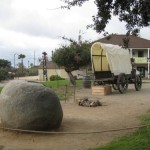 We had lunch at El Fandango in Old Town, then wandered around the shops for a bit. By now we've seen most of the exhibits and museums. But the San Diego House of Coffee and Tea is a must-visit stop, if for no other reason than to pick up some Highlander Grog. We also grabbed some hot coffee to walk around with, since it was gloomy with occasional drizzling. (I later noticed a sign in the Gaslamp area that said "Umbrellas $9.95. When Raining, $19.95.)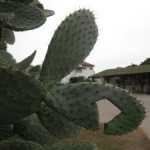 They had set up period tents and wagons around the grounds, mostly in the courtyard with the flagpole made from the ship's mast. One of the shops we visited was the mineral & gemstone store, which I've always liked visiting even back when I was a kid. And right up front, they had the hugest trilobite fossil I'd ever seen, around a foot long.
After a few hours, we drove into downtown San Diego and checked into the Omni Hotel. I'd never stayed there before, but it's highly sought-after among attendees at Comic-Con because it's right across the street from the convention center. Our room had a view of the end of the convention center, which will shed a little light on the size of the crowds.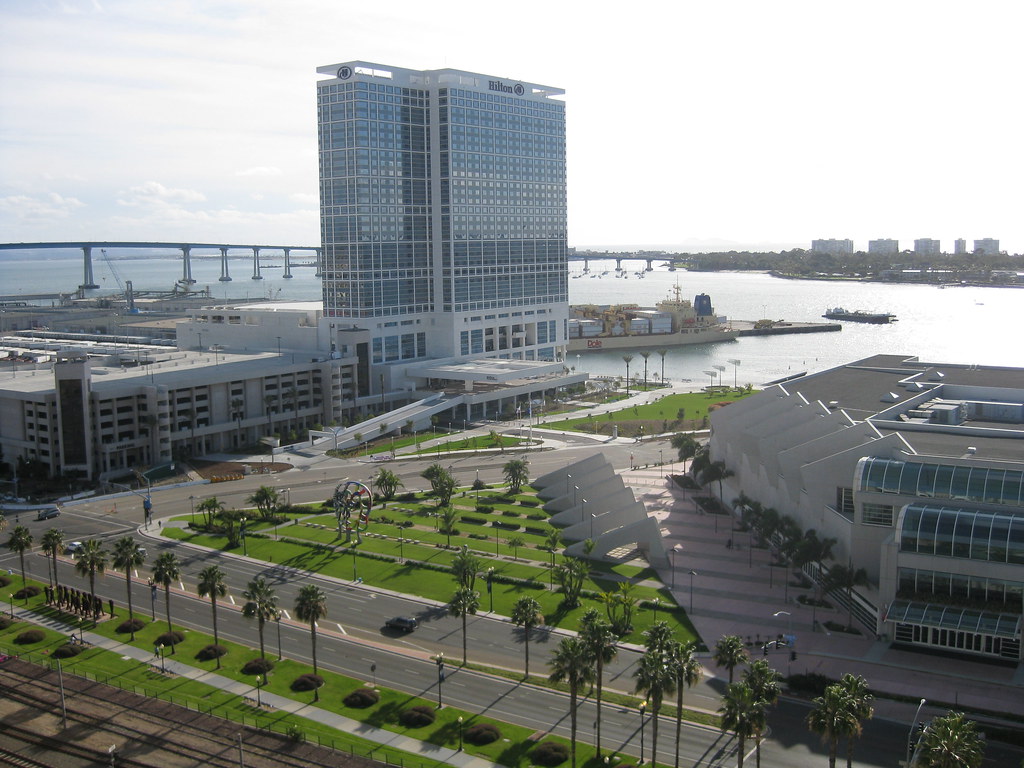 The building at the lower right, with the sideways cylinder structure, is one end of the San Diego Convention Center, near Hall H. See that courtyard/sculpture garden between it and the Hilton? Imagine it full of people, in a long line snaking back and forth, waiting to get into a mega-major-media event like Heroes or Twilight.
A few notes about the Omni: The rooms and view are very nice. The staff is very helpful. The person arranging everything had set us up with late checkout, and I couldn't remember what time it had been set for, but when I called, they just asked me what time I needed. Amenities are quite nice: there's a DVD player, a well-stocked minibar fridge, a safe in the room, even a spare ethernet cable in case you forgot yours.
But there are some things that just don't make sense. For instance: The bathrooms have no towel racks, so you have to set your hand towel in a clump on one of the shelves, where it won't get dry. And the bathrooms have wooden blinds which can be opened to let in light — but they don't close tightly enough to muffle sound.
Anyway, Sunday morning we slept in. The sun had come out, though it was partly cloudy all morning. I started out on a quick trip to Ralphs (10 minutes each way) with a sweater and jacket, had removed the jacket by the time I got back, and tossed the sweater when I got back to our room. When we went out to eat later, I just took the jacket, and as the sun passed behind clouds and wind kicked up and died down I kept wanting to put the jacket on, take it off, put on the sweater I'd left at the hotel, stick with the T-shirt, and so on.
I couldn't help but compare the Gaslamp District today with the way I've seen it during conventions. It was a lot less crowded! We stopped at a Farmer's market on Third St., where we picked up some fresh bread, raspberries, and a companion for a hair stick that Katie had found at a glass-maker's shop near Old Town.
We caught a late brunch at Cafe 222, which we'd discovered this past summer. (Side note: your Flash-only website, however stylish, is completely useless when viewed on a mobile phone — even a modern one like an iPhone or G1. Have you considered putting at least your hours in plain old ordinary HTML?) I ate way too much, but it was basically two meals.
After brunch we stopped at It's a Grind to pick up some coffee for the road and went back to our room, narrowly missing a parade if the signs on Fifth St. were to be believed. I took a couple of photos out the window now that the scene was better lit, then we grabbed our stuff, checked out, and headed back north.