We've been following singer/songwriter Butterfly Boucher since 2004 — in fact, since the first day we tuned in to the now-defunct Indie 103.1 and heard "Another White Dash" for the first time. We caught her opening for Barenaked Ladies a few months later and picked up her album, then caught her again opening for Sarah McLachlan later that year. Her second album, "Scary Fragile", finally came out on Tuesday (it's very good — Katie says it may be the best sophomore album she's ever heard), and she's doing a concert tour. She's playing in Los Angeles most of this month, but timing worked out better for us to go see her in San Diego on Saturday. So we bought some tickets and made a weekend trip out of it.
Historic San Diego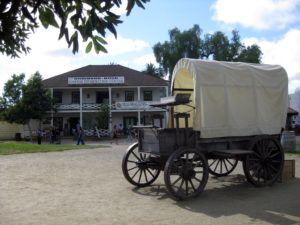 We drove down after lunch on Saturday and hit Old Town San Diego on the way in. (More Highlander Grog!) I could swear I don't remember having trouble finding it before, but the last few times it's been hard to get to even following a map. At least we managed better than we did in December, when we ended up several miles inland before we could find a place to cross the inlet.
I don't remember much going on the last time we were there, but this time Old Town was in full-on living history mode, complete with tour guides dressed up in 1800s outfits and a horse-and-buggy ride.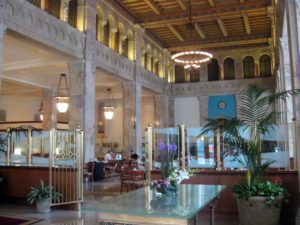 I'd booked the Courtyard San Diego Downtown because it's literally next door to the House of Blues. It took a while to negotiate the one-way streets, but once we arrived, we stepped inside and were blown away by the lobby. It turns out that the hotel used to be the building for the San Diego Trust & Savings bank. After the bank closed in the 1990s, Marriott bought it and converted it to a hotel. The vault, safe deposit rooms, and other rooms on the first floor became a conference center, and the offices on the upper floors became guest rooms. They've preserved as much of the old look of the place as possible, down to keeping the mail slots on the former office doors. (Don't worry, they're blocked.)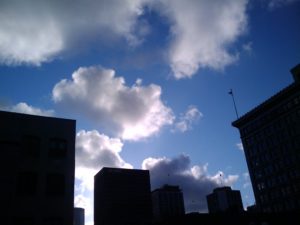 We ate dinner at Chopahn (6th Ave. near F St.), an Afghan restaurant we first visited during last year's Comic-Con. It was empty when we got there, which I hope was just because we were there on the early side, because the food is great. Another couple arrived while we were eating, but they were the only people we saw other than the waitress. She had started pushing tables together as if they were expecting a larger party later on.
After dinner we wandered the Gaslamp district for a while. I kept making notes of where various hotels or restaurants were located. Eventually I realized I was basically scouting for Comic-Con next month.
Around 7:00 we made our way to the House of Blues.
Concert
That's when we discovered that we'd been under a misapprehension about the nature of the venue. Continue reading →