I finally bought a new camera yesterday. I picked it up on a clear, beautiful March afternoon, and my first impulse was to drive up into the hills to Vista del Norte and start taking scenic photos of the entire Los Angeles Basin. I could get a great panorama from Santa Monica in the west, across the San Gabriel Mountains to the north, a glimpse of the next range over, all the way to Long Beach in the east with Saddleback behind it. Then I could go up to Del Cerro Park and get some shots of the coastline, the ocean, and Catalina Island in the late afternoon light.
Of course, they don't ship the batteries charged, which put a quick end to that plan. And today, it's overcast and smoggy.
I did, however, get this shot of the moon when I left a few hours later on a trip to the grocery store.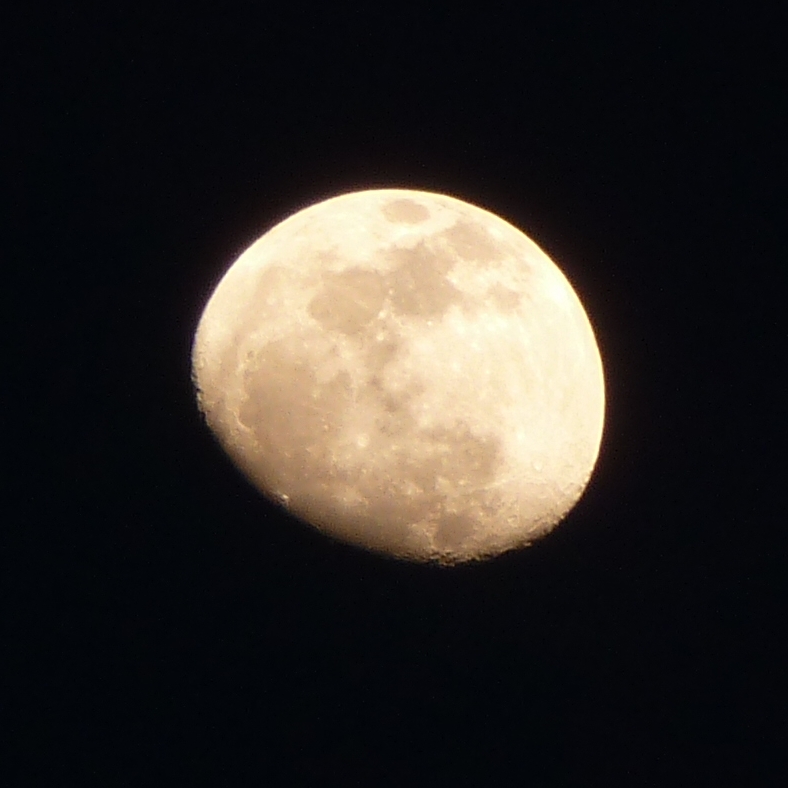 It was right around sunset, so the sky looking east was actually a medium blue, but with the short exposure needed to get details on the moon, it ended up looking black. This is the first photo I have taken of the moon that shows texture. I think this will do!
When I looked into repairing my old camera (it developed a permasmudge inside the lens mechanism a few months back), it was going to cost about the same as getting a new, comparable camera — and I figured, if I'm getting a new camera anyway, why not get one that's better, and solves the problems that have bothered me about the old one?
The key things I wanted in the new camera:
Long optical zoom.
Still small enough for at least a jacket pocket. (I've said I want a digital SLR, but the more I think about it, I wouldn't want to carry it around much.)
Minimal shutter lag. (With a toddler in the house, I keep trying to take a picture of him doing something, or showing an expression, and he moves between the time I press the button and the time the camera captures the image. What I miss most about film cameras is the fact that the shutter opens the instant you push that button.)
Replaceable battery. (Seriously, the cameras I kept finding that fit the rest of my criteria turned out to only have an internal battery, so that you charge them like a cell phone. I've had enough experiences where I'm out somewhere, about to take a photo, and suddenly the camera shuts down. I like being able to swap in a spare.)
I ended up getting a Panasonic DMC-ZS8. I considered another Canon, but the main advantage it had was the continuous-shot mode, and this one had better zoom & less shutter lag. I've been testing it out at home, and I'm really looking forward to the chance to try it out with more types of pictures!