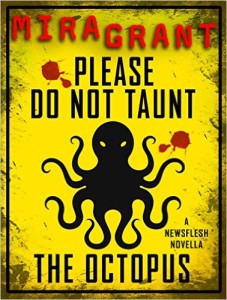 Mira Grant has been writing yearly novellas set in the world of her Newsflesh trilogy. A generation after the zombie apocalypse, humanity has survived, adapted, and rebuilt civilization. While the trilogy focuses an a core group of characters, journalism, social media and American politics, the novellas have opened up more of the world.
"Countdown" reveals the early stages of the Rising, including a look at what two messed-up background characters were like before everything went to hell. "The Last Stand of the California Browncoats" looks at what would happen if an actual zombie plague wiped out Comic-Con. "How Green This Land, How Blue This Sea" jumps across the world to Australia, where the people take a very different approach toward managing the zombie virus. "The Day the Dead Came to Show and Tell" explores the implications of life with zombies on the school system, and it's really freaking disturbing. The newest one refers back to it (not in any detail — it goes out of its way to not describe what actually happened), and it hit me again. That story sticks with you.
"Please Do Not Taunt the Octopus" is the latest, and picks up the tale of Dr. Abbey, who runs an underground virology research lab where they're trying to cure the zombie virus without the politics constraining mainstream organizations like the CDC (which has its own issues), as they deal with industrial espionage, hackers, and some…surprise visitors. She grudgingly accepts the label of "mad scientist," though she insists that while she is angry, she's not crazy.
It's a surprisingly upbeat story considering the setting, as is "How Green This Land…"
One interesting observation: It's now 2015. In the Newsflesh world, the Rising took place in 2014. We've now branched into alternate universe territory, but there are references to historic events and pop culture that happened after the first novel came out in 2010.
Another observation: I followed this up by finally reading Unlocked, a novella detailing the background of John Scalzi's novel Lock-In. It's an interesting parallel, in that both Newsflesh and Lock-In pick up a generation after a devastating virus has swept the globe, killing and transforming people — in one case taking over the bodies as the mind dies, in the other leaving the mind intact but cut off from the body — and the technological, social and political changes made to deal with the new normal.