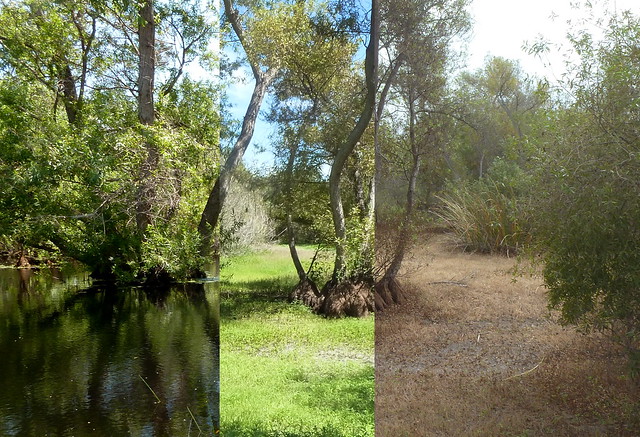 Last weekend I returned to the Madrona Marsh Preserve to see what our late summer/autumn heat wave had done to the place. The fields of sunflowers I saw in August have gone to seed and dried up, and the pools have continued to retreat. I managed to get a third shot in the same grove as before, where trees grew out of a pool in spring, towered over low ground cover in summer, and now stand alone, waiting for winter rains to flood the grounds again.
The image above is a combination of spring, summer and fall (specifically May, August, and October) views at the same spot.
The higher parts of the preserve are covered with dry scrub, though volunteers have cleared a lot of it out. The broken tree limb I had to walk around in August has been cleared away as well. Deep into the wooded area we did find mud flats teeming with reeds, smaller plants, dragonflies, songbirds and insects. I don't know if any standing water remains, since we turned back at that point. (Kids have boundless energy, but limited stamina.)
Over on Flickr I have about a dozen photos of the hike, showing the preserve's current range from dry scrub to muddy grass.