Last year's WonderCon went well enough that when our five-year-old said he wanted to go both days this year, we figured sure, let's do it! Famous last words…
(TL;DR: full photo album)
We had another thing going on Saturday morning, so we got in around noon and went to get lunch as soon as we had our badges. Then we stood in line at the food trucks for over an hour. By the time we made it into the convention proper, it was almost 2:30pm. On Sunday, we brought sandwiches with us, though we did wait in line for cotton candy shaped like Baymax's head (cotton candy being the exception to the rule about not eating things bigger than your own head).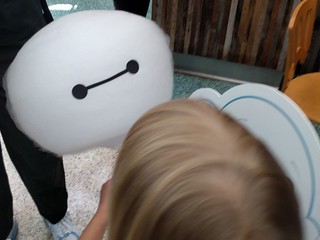 Unfortunately things didn't work out as well as last year, kid-wise. He's old enough to find cool things to do at a con — meet the Ninja Turtles, check out toys, play retro video games, stuff like that — but hasn't quite mastered the art of "let someone else have a turn" or "let's start walking so we can get to this other thing before the room fills up." The first day of a con is overwhelming for anyone, and that goes double for kids (and parents). Saturday was so exhausting that we left early and I dropped into bed fully dressed.
Crowds, Cosplay & Events
As many people as there were, I never felt crowded. We didn't have any problems with the RFID badges either. They had a new system where you had to tap your badge on a scanner to enter or leave the main hall, or one of the areas where events were being held. Our badges scanned just fine. J. insisted on tapping his as well, and was disappointed that the scanner didn't respond. (He really likes the idea of having his own ticket to things, even when children get in free.)
Star Wars costumes were all over, including Kylo Ren and a lot of Reys. Harley Quinn has surged in popularity, especially the Suicide Squad movie version. Disney was slightly less thick on the floor than last year in Anaheim, and I saw a lot fewer Deadpools than expected. Mash-ups were everywhere. We'd observed last year that sooner or later every costume becomes Slave Leia, a Sailor Scout, or a zombie. It's time to add Mandalorian Mercenaries to that list.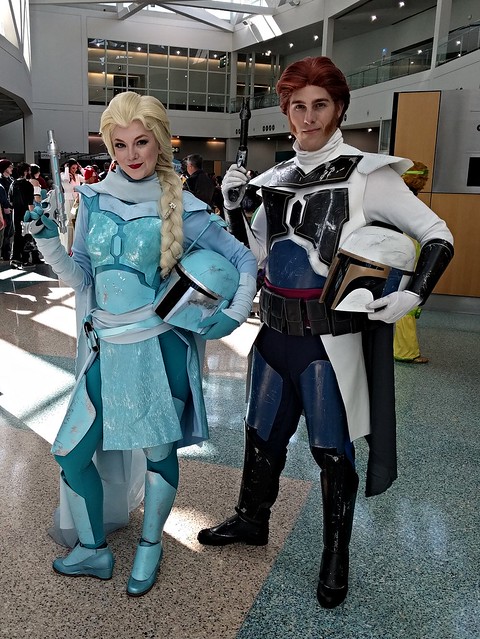 Katie wore her Once Upon a Time in Wonderland Alice costume on Saturday, and J. wore a Disney-style Alice dress (nothing wrong with crossplay). On Sunday she wore a gender-swap Harrison Wells outfit — dubbed Allison Wells — but I think it was too subtle for most people. I found myself really wishing I'd gotten back into shape and rebuilt the broken pieces of my old Jay Garrick costume.
We caught three panels between us: Cosplay Over 30, Geeklings (which was great to bring the kid to, since it was all about geeky families and they provided coloring books and a play area)…and then there was the panel on sci-fi romance that Katie went to to see Gigi Edgley and Mira Furlan (who didn't make it). About 10 minutes in, J. decided he had to go hang out with mom, regardless of what panel she was in, and of course he was totally bored through the whole thing.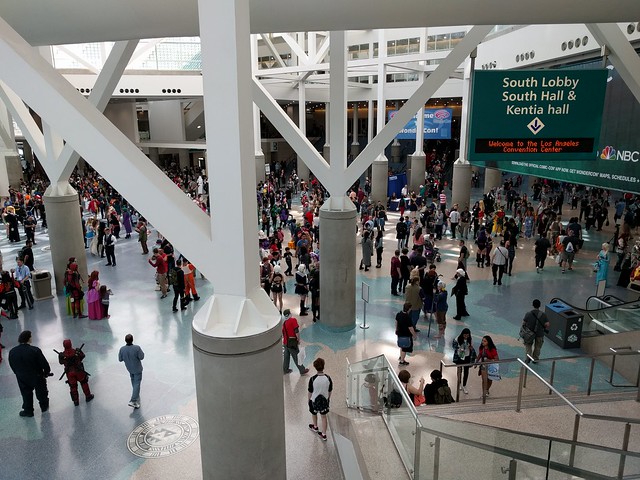 Location: Los Angeles
The Los Angeles Convention Center feels more spread out than Anaheim. I hadn't really noticed that before, but the last few conventions I've been to here didn't use the whole space. Think of it as a twisted dumbbell: South Hall at one end, West Hall at the other, and a handle connecting them. The exhibit floor took up South Hall, and most of the programming events were held either above West Hall or along the handle. The really big events, which we didn't get to, were at a theater across the street.
Q: Who shuts down a coffee place in the middle of a busy convention?
A: Groundwork, apparently. I reaaaaally wanted some coffee around 5:30 on Saturday (the main floor was open until 7:00, and events continued into the evening), and had to settle for the last of the food court coffee.
Parking is more like San Diego, though, with lots of tiny lots around Downtown all charging their own prices. They offered pre-paid parking in the convention center lot, which was very convenient, but also hideously expensive.
We didn't get a chance to check out the restaurant scene because we had to rush home Saturday and move the car on Sunday, but there's a lot more on the map than I remember the last time I was there, and it looks more varied than what's in walking distance in Anaheim. On top of what's open now, there's a ton of construction in that part of downtown, so there's likely to be more opening soon.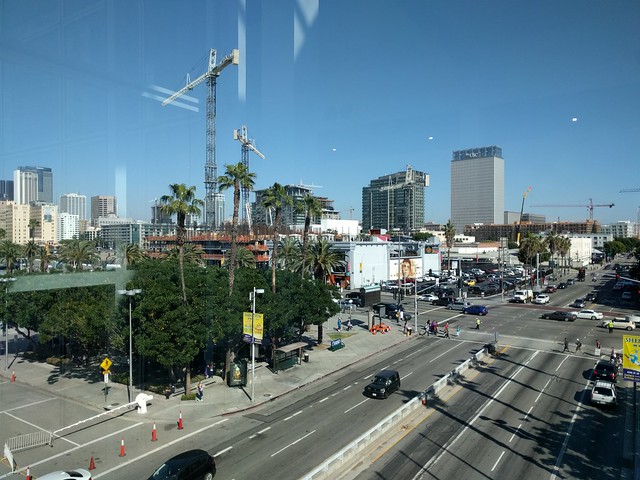 I was also reminded how much I hate driving into downtown Los Angeles. Traffic is always horrible. The freeway exits are a mess. We missed the exit for the convention center the first day because it wasn't directly off of the 110, it was off of the ramp between the 110 and the 10, so we overshot (slowly) and drove around downtown past all the construction, trying to get back to the convention center. Next time we come here for something without costumes, I think the train's going to be the way to go.
Though it was interesting watching a Supergirl episode after we got home Sunday night and trying to place where the fight scene was filmed. (I find it amusing how they don't even try to disguise the fact that National City is Los Angeles beyond pasting a CatCo sign on a downtown skyscraper.)
If you've read through all of this, thank you! Now check out my full photo album on Flickr. WonderCon was held March 25-27, 2016 at the Los Angeles Convention Center.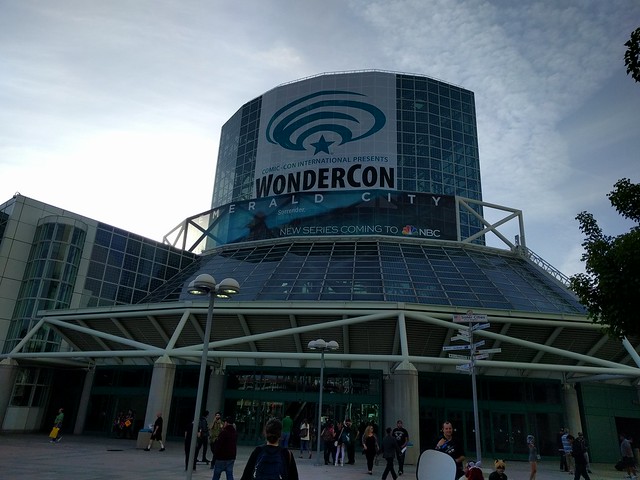 See Also: Convention Photos & Write-Ups