Here's a quick index to all of our posts about last month's Comic-Con International in San Diego: here, at Speed Force, and on Flickr.
Around the Con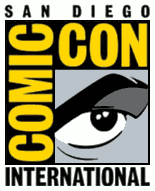 We saved most of our long-form writing for panel and costume write-ups (see below), but I made extensive use of Twitter during the convention. These are auto-generated digests of each day's Twitter activity, presenting a view of the convention as I experienced it.
The Paper and the Flash
In Costume
On Friday we attended in costume as Yomiko Readman from Read or Die and Jay Garrick, the original Flash from the Golden Age (1940s). On Saturday Katie attended as Kate Austen from Lost.
Panels
Reflections
That covers all the major posts we've written from the start of the convention onward. There are a few minor bits, like the "We're here!" post from when we arrived in San Diego, and various posts about the build-up to the con. You can find these by looking further back in the Comic-Con 2009 category here and in posts tagged CCI SDCC 2009 at Speed Force.
See Also: Convention Photos & Write-Ups