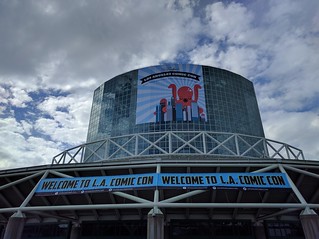 We're ready to swear off going to cons at the LA Convention Center. We tried to spend Saturday at Stan Lee's LA Comic Con (formerly Stan Lee's Comikaze Expo, formerly Comikaze Expo), but…well…
(TL;DR: Skip to the photos)
Getting There is Half the Fun^H^H^HDay
It took us as long to drive the two blocks past the off-ramp as it took us to drive into Los Angeles. I dropped Katie off so she could get in line while we spent the next hour looking for an open parking lot. (The only "try over there" parking signs were small and listed addresses, not directions.)
The angry, you-all-suck hateful religious protesters were out in front with a megaphone, literally telling everybody to get jobs and move out of their parents' basements, spewing anti-gay and anti-woman rhetoric, and accusing us of "dressing up as [our] favorite demons." I don't blame the con or the convention center for them, since they were on a public sidewalk, but we had to walk past them several times to get in, because they were right next to the line…
The long, slow, snaking line with no signs, no cordons, nothing to keep the folds separate and hardly any staff to give any indication that this was even the right line. I had to get out of line to look for someone who looked like they might work there, maybe, judging by the suit and earpiece.
Also no shade until the last section.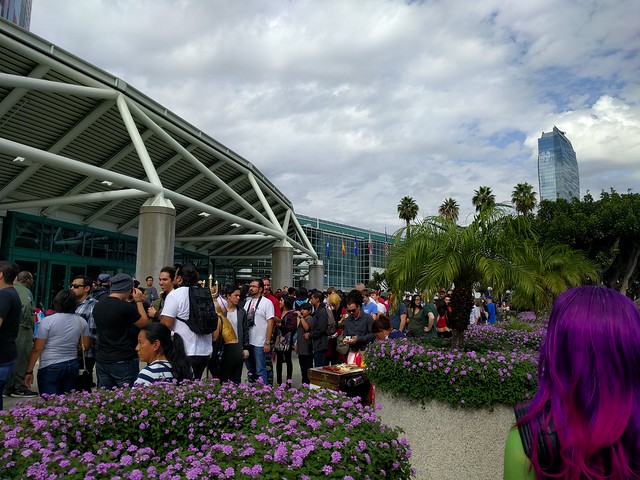 On the plus side, street vendors were set up all along the line, 'cause it's downtown LA, so if you were really hungry while waiting in line for 90 minutes, you could buy a hot dog.
By the time we all had our badges and regrouped inside, it was 1:45 in the afternoon. We'd expected to be in by 11:30 at the latest.
And food inside the convention center? They had plenty of cashiers, but only two people handling the actual grill during lunch hours. (They shut down the coffee shop early too, just like at WonderCon last March, which says to me that this is SOP at the LACC.)
Oh, Hey, there's a Comic Con Here!
There seemed to be a higher percentage of people in costume than at most cons. I don't know if that was actually true or just my perception. The main lobby was almost always packed with people milling about and doing photo shoots. (Some walking lanes would really help.)
Katie got recognized as Whitney Frost, which was awesome, including by some people who said they were going to send the photo to the actress! A big part of the reason we came to this con was that she didn't get a chance to wear the outfit at Long Beach last month, so that was satisfying.
Most of the main floor was vendors. People selling the usual mix of comics and toys and memorabilia, plus specialized gadgets. Small publishers and individual artists. No big publishers, no exhibits, and no activities. It really felt more like a market than a convention. There weren't things to do or see (beyond window shopping and artists), just to buy. And it seemed like every booth had a bunch of small and/or breakable stuff to grab or throw.
The crowds were a bit overwhelming for J. and we had to retreat to clearer areas a few times. He was fascinated by old video game cartridges and portables at one booth. Watching an artist draw Batman (and playing with her eraser putty, which she was kind enough to let him do). Antique pinball games that had been converted into (very expensive) display pieces. Watching 3D printers forming little Pokemon statues.
I have no idea how the panels were run, because we didn't make it to any. I hope they're handled better than they were the last time I went to Comikaze, but based on the line situation, I'm not convinced.
Full photo gallery at Flickr.
See Also: Convention Photos & Write-Ups