The cold-war musical Chess works surprisingly well set in the present day.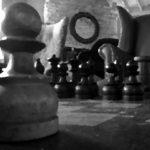 UCI Drama's production is a concert staging of the show, with the orchestra and choir onstage, and the actors carrying handheld microphones with minimal props. It works well, especially for the more 80s-pop numbers like "Nobody's Side" and the big ensemble songs like "Merano" and the chess games, though it gets a little awkward when the characters are singing to each other with microphones. (The show features two competing styles of music, achingly 80s and classical musical theater.)
The show's structure is fluid, with vast differences between the original London and Broadway versions and later productions, and just about every version tweaking the story and moving songs around. This version largely follows the London stage version, with a few key changes:
It's set in the present day. This updates the USSR to Russia and drops the CIA vs KGB elements of the background game played between Walter and Molokov. Florence is the daughter of Hungarian refugees, rather than a former child refugee herself (Budapest 1956 is the only fixed date in the story.) The political stakes may be a bit lower, but the personal stakes work just as well.
Several roles have been recast as women, including Molokova and the arbiter, which makes the show even more "alto-licious" (as Katie puts it).
The second act drops a lot of the connections between songs (it is done as a concert, after all), which means you don't see the breakdown of Anatoly's and Florence's relationship, or Anatoly cracking under the pressure, until he finds his "one true obligation." You get the before and after but not the process.
The performances were all solid, with Molokova in particular as a standout.
An aside: I found it interesting to see an actual production of Chess at UCI, since the songs had been so popular with the musical theater crowd when I was there in the 1990s. "I Know Him So Well," "Heaven Help My Heart," and "Someone Else's Story" were standards in the library, and I heard them a zillion times, while all the guys who were serious about musicals wanted to sing "Anthem." And really, can you blame them?
I'm still not sure how well "Someone Else's Story" works for Svetlana, but that ship has sailed. And "One Night In Bangkok," despite being instantly recognizable to anyone who lived through the 80s, is cringe-worthy now. For this production they downplay the stereotyping by playing up the fact that it's seen through the perspective of a total lout (Freddie). It's still cringe-worthy, but at least it's a character statement rather than a narrative one.
The production continues through this weekend.