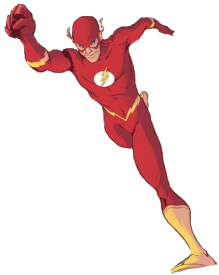 I've just launched SpeedForce.org, a companion blog to the website, Flash: Those Who Ride the Lightning.
Since I started adding news items to the front page of Ride the Lightning, it's started to get a bit crowded. I thought about converting it to a Delicious feed, but then I realized it really ought to be a blog. There hasn't been a major Flash-focused blog out there since Crimson Lightning shut down, so I figured I'd step in and fill the gap. And I could use the domain I picked up last year!
I'll be posting Flash-related news there, including a weekly round-up of Flash comics, as well as articles that might not fit into the existing site structure, and (eventually) reviews as well. Some stuff that I would have posted here will end up on the new site. Certainly Flash news, but I may start shifting more comics-related commentary over there as well.
I'll be refining the look and features over the next couple of weeks, and cross-linking it more into Ride the Lightning. I might keep the current theme with a few tweaks, or I might try to match Ride the Lightning, or I might build something else entirely.
So please, check it out and let me know what you think! I'm open to suggestions as to content, design, etc. And of course bug reports.