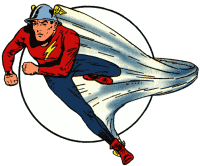 I just discovered that the domain name speedforce.org was available. I couldn't pass it up. Now I have to figure out what to do with it.
I've toyed with the idea of separating out all the Flash stuff from this blog and creating a dedicated comics blog. I've also thought about renaming the site, Flash: Those Who Ride the Lightning (it's an awkward name*, no matter how you slice it), though it's got enough mindshare that I'd rather just simplify it to "Ride the Lightning."
Any suggestions?
*Come to think of it, I have a history of picking names that seem perfect at the time, only turn out to be awkward later on. The Alternative Browser Alliance seemed like the perfect name, but I got so sick and tired of typing www.alternativebrowseralliance.com that I registered altbrowser.net just so I could use it more easily.