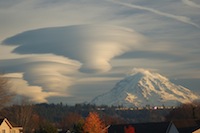 A couple of days ago I clicked on the StumbleUpon toolbar and landed on this incredible photo of lenticular clouds over Mt. Rainer at APOD. It was a bit unnerving, because that picture has been my desktop wallpaper for the past year or so! Good call, though.
Windows 7 is doing what Vista couldn't: convincing people to replace Windows XP. The best quote in this ZDNet article: "Windows 7 is the Anti-Vista."
The Straight Dope experiments with Kahlua cupcakes to determine two questions: How much alcohol is left in each cupcake? (Not much) Can you get drunk? (Not unless you eat so many cupcakes that you'll be sick anyway.)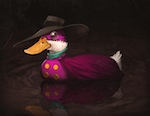 Some comics fan art. First, a realistic Darkwing Duck by Mike P. Mitchell. I suspect that if someone other than Disney owned the character, we'd be seeing a "live-action" movie that looked like this. Second, Comics Alliance collects a fantastic series of cover art for Great Comics That Never Happened – team-ups like the Justice League and the Wu-Tang Clan, or the League of Extraordinary Gentlemen featuring 1980s icons like Mr. T, Doc Brown and MacGyver, or Hannah Zatanna, torn between the worlds of superheroes and magic, or a race between Superman, the Flash…and the Dukes of Hazzard.