This was a fun panel with representatives from Eureka!, Caprica/Battlestar Galactica, and Fringe, moderated by Phil Plait of Bad Astronomy.
Some interesting moments:
After they talked about the ethics of interrogating a corpse, one of the guys from Fringe (I think Rob Chiappette) remarked that he wanted to see a Law & Order: Fringe show. I think I'd watch that!
One of the reps from Eureka revealed that they'd planned an episode that would take the Attack of the Killer Tomatoes concept and play it seriously, but it didn't make it. Jamie Paglia said "It's so good we didn't do that episode." Either Glenn Whitmann or Rob Chiappetta remarked immediately, "You'll see it on Fringe!"
Phil Plait asked why there wasn't more astronomy on Fringe, and Glenn Whitmann explained it was because it was a horror show, and it's easier to creep people out with biology & neurology than astrophysics.
A fan asked the panelists whether they had ever done something dangerous on their show that made them worry about people trying the experiments at home ("Don't try this at home, kids!") For the most part they figured the level of technology, gadgetry and genius that their characters had made things impractical to imitate, though Rob Chiappetta added, "If you see Walter [Bishop] do something on screen, don't do it!"
Another audience member mentioned that he worked in robotics, and was concerned about the way robots were portrayed as good or evil. If too many robots were portrayed evil, he might lose funding… Jane Espenson explained that "Killer robots are a lot more fun to watch."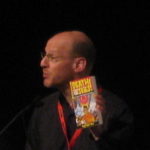 And of course Phil Plait plugged his book, Death from the Skies! "I love having a microphone!"
Photos will be on my Flickr account later tonight, once they trickle through the incredibly-slow hotel wifi. Update: They're up! The trick was apparently waiting until 6am when no one else was using the wifi.