We went to the Orange County Fair on Saturday afternoon. Most years we end up going to at least one of the Pacific Amphitheater's summer concert series, which includes fair admission, so we just combine it into one trip. This year it was Melissa Etheridge, and we also had another goal: Al's Brain.
We started by grabbing some water and (in my case) a chocolate milkshake (because I wanted some ice cream, dangit! and drinkable made it easier), then wandered through the arts and crafts displays, where they showed prize-winning jewelry, crochet, display models, dresses, origami, etc.
Al's Brain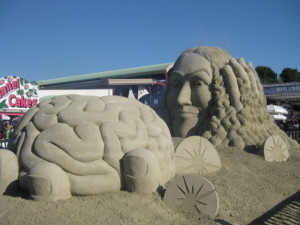 Then we made our way to the back of the fair, where they had set up a portable theater for Al's Brain (in 3-D!). There was a huge sand sculpture out front of "Weird Al" Yankovic holding out a brain in his hand. An animated question mark and exclamation point would occasionally pop out the top of his head, and smoke would pour from his ears.
"Weird Al" has actually had a long association with the Orange County Fair, often doing free concerts on multiple nights during the run. We've seen him there at least twice, possibly three times. One year there was a "Weird Al" museum of sorts. This year, he got involved in a short 3-D educational film (comedic, of course) about the brain.