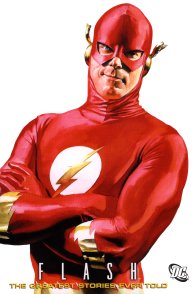 Today DC Comics released The Flash: The Greatest Stories Ever Told, a collection of classic Flash stories ranging from 1947–1994. Back in February, when they announced the contents, I did a point-by-point comparison of the stories to be included and the stories that appeared in the 1991 book, The Greatest Flash Stories Ever Told.
When I picked it up, I noticed that the paper was lower quality. The 1991 book was printed on thicker, almost glossy paper. It wasn't archive level, as it's noticeably yellowed over 16 years. The new book is certainly above newsprint, but the paper is thinner and matte. Of course, it's still better paper—and better printing—than the stories originally got!
It looks like Johanna Draper-Carlson (Comics Worth Reading) was right when she suggested that the new Greatest Stories books are aimed at another audience: not the fan who wants a collection of classic stories, but a casual reader who might be interested in a sampler.
Alas, no Bart Allen cameo. The final 2 pages of Flash v2 #91, which were really a teaser for "Reckless Youth" and not part of "Out of Time," were left out. But speaking of that story, Mark Waid's introduction to the book contains a statement that, given recent events, takes on an unintended poignancy:
That they chose "Out of Time"—one written by me—is, I insist, simply a lucky byproduct of their real intent: to showcase the artwork of Mike Wieringo, a most deserving comics superstar whose interpretation of Wally as the Flash set a standard unsurpassed to this day.