Creeping Around the Garden
I'm re-reading Victor Hugo's Les Misérables after 20 years. Start with part 1, go back to read about a failed mugging, or read on!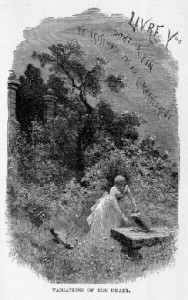 The musical condenses an extremely long courtship between Marius and Cosette into the cliched (but much easier to stage when you've got other story to tell) love-at-first-sight moment. In the book, they have months of flirting across the park in summer, then lose sight of each other, then almost meet just before the attempted robbery in February, then nothing for several more months.
Cosette is actually starting to move on, having given up on ever seeing Marius again, and this handsome soldier in the nearby barracks starts spending his break time in view of the garden. This time it's not so much love at first glance as "Hellooooo Nurse!" though when his fellow officers tell him he should flirt with her, he says with great modesty (or not) "Do you really think I've time to stare at all the girls who stare at me?"
Because this is Les Misérables, and coincidences abound, the soldier is Théodule Gillenormand. Yes, Marius' cousin. Katie suggests that maybe Hugo got tired of introducing new characters. If so, it certainly took him a while.
Then things get spooky.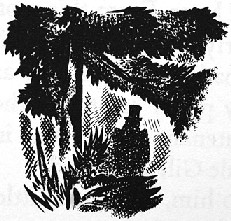 Cosette doesn't scare easily. Years with Valjean and at the convent have counteracted the anxiety of her childhood, allowing the "gipsy blood in her veins" (I wonder if this was a standard phrase at the time, or if Hugo is adding a bit to her background) and her adventurous nature to reassert itself. Hugo compares her to a lark. For something I didn't remember at all from the first read-through, that nickname keeps recurring an awful lot.
One night that spring, Cosette hears footsteps in the garden. She goes to the shutters to peek out, but no one's there. Another night she's out in the moonlit garden, and sees the shadow of a man wearing a hat, walking a few paces behind her. She looks around, but again no one's there…and when she looks back, the shadow has vanished as well.
She figures she's hallucinating, but twice in as many days? "Most disturbing, it could not have been a ghost. Ghosts do not wear round hats."
The next night she awakens and hears footsteps in the garden. She looks out, and there's a man with a cudgel! Oh, wait…it's her father standing guard. *whew!*
After a couple of nights on patrol, Jean Valjean wakes her up to point out a chimney shadow that looks rather like that of a man wearing a round hat, and Cosette is so relieved that she doesn't think about things like whether the shadow quite lined up with where she saw it, or the position of the moon three days later, or "singular behaviour of a chimney that beats a retreat when it is in danger of being caught." (I just love that line.)
Their housekeeper Toussaint is somewhat less reassuring, remarking that "We could be murdered in our beds before you could say knife, especially with Monsieur not sleeping in the villa." Gee, thanks. (On the plus side, Hugo notes that she has a stammer, but declines to write it in dialect. "We dislike the musical notation of an infirmity.")
A few nights later, a stone appears while she's walking around the garden, completely freaking her out. The next morning, convinced she's imagined it, she goes out. The stone's still there, but in the daylight she's more curious than afraid, and finds the envelope with a notebook filled with musings of love. Pages and pages of it.
The Book of Love
"God is behind all things, but all things conceal God. Objects are black and human creatures are opaque. To love a person is to render them transparent." I think this may have inspired the line, "To love another person is to see the face of God" from the musical.
"Lacking this, or lacking air, we suffocate." So, I guess Marius is saying that love is like oxygen.
She finishes the letter just as Theodule wanders by again, and not only thinks him "odious," but wishes she could throw something at him. All her feelings for Marius are rekindled fully. Interestingly, Hugo compares it to the bread messages tossed over the walls by prison inmates.
That night, Marius finally steps out of the shadows, and the two of them are reunited. Or, perhaps we should say, united, because they've never actually spoken until this moment. Marius starts babbling, going on for several minutes asking if she's read the book, telling her that he's been coming to watch her at night, but don't worry, no one sees him, he just looks at her windows and walks very quietly to avoid disturbing her (stalker warning!), and oh no I'm rambling, "am I annoying you?" Yes, he's afraid he's doing everything all wrong…
At long last, nearly a year after they first noticed each other, they meet, speak, embrace, kiss…and learn each others' names. Whoa!
Next up: Gavroche's strange encounters with his family.
Pages covered: 797-811. Images by Jeanniot and Lynd Ward from two unidentified editions of Les Misérables, via the Pont-au-Change illustration gallery.