Over the Edge
After the Argot digression, the action in Les Misérables returns to the Rue Plumet, where Victor Hugo goes to great lengths to insist that there's no action going on between Marius and Cosette. Now that they've met face to face and shared that one kiss, they don't even think about going further than holding hands over the next few weeks as they meet secretly in the garden. It's this sublime meeting of souls, all staring and talking (and I think I mentioned, Marius really rambles when he's worked up) and nothing physical going on. (The funny thing is, later on Grantaire hears that Marius is seeing a girl, and his drunken, half-joking speculation on the nature of their meetings turns out to be right on the money.)
At one point Cosette tells him, "You know, my real name is Euphrasia."* Because Marius hasn't had enough confusion about her name. She explains Cosette is just a silly nickname, and "Do you like Euphrasia?" I can just imagine her looking at him with big puppy-dog eyes at that point. When Marius stammers that he likes it, but likes Cosette better… "Then so do I." :roll:
It's never entirely clear how much of her past Cosette remembers, or how much of her background she knows. Whether Fantine passed this knowledge on to Valjean, or she remembered being called Euphrasia before the Thénardiers took her in, it seems to have stuck.
They did not ask where this was taking them; they felt that they had arrived. It is one of the strange demands of mankind that love must take them somewhere.
Cosette, as before, hides everything.
Marius wanders about in a daze, because that's what he does. At one point Courfeyrac remarks to him, "My dear fellow, you seem to me these days to be living on the moon, in the kingdom of dreams of which the capital is the City of Soap-Bubble. Be a good chap and tell me her name."
Éponine Steps Up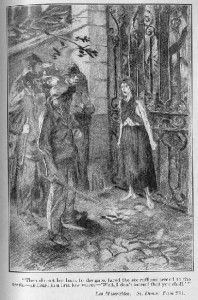 It's worth remembering that in the book, Marius and Éponine aren't friends, but casual acquaintances at best. Forgetful and ungrateful, he doesn't give her a second thought once she shows him to Cosette's home. But she's been following him around the whole time, basically stalking him, and at the point when Thénardier and Patron-Minette show up to rob the house, she's there.
As in the show, Thénardier doesn't recognize his daughter (just as he didn't recognize his son earlier).
Éponine's pretty awesome in this scene. She tries to disarm her father emotionally by turning it into a reunion (he has just broken out of prison), and when that fails – Babet actually says "This is getting silly" – she starts reminding them that she's already checked the place out, and when that fails…
She doesn't scream. She doesn't have to. She just threatens to. They threaten her back, and she just laughs at them. "My God, do you think I'm scared? I'm used to starving in summer and freezing in winter. You poor fools…" After delivering an awesome speech she just sits down and refuses to move, until Brujon, known for never backing down from anything (and also writing poetry and songs), decides it's not worth the risk, and they leave.
There's a remark about the "key to the grating," which will make more sense later.
Beginning of the End
After about six weeks, one day Cosette is unhappy because her father says they need to leave. Dramatically it works better for it to be a direct response to the attack. Marius has a plan, and scratches his address on the wall in case something happens. What could possibly go wrong?
Well, everything that could go wrong in his reunion with his now-91-year-old grandfather (it's been four years) does go wrong. They both want to reconcile, but neither is quite sure how to go about it, and get off on the wrong foot, saying the wrong things. Finally, Marius asks permission to marry Cosette so her father can't take her away – apparently the age of consent was 25 at the time. Gillenormand refuses, and worse, tells him to make her his mistress. Marius is so insulted he walks out, promising never to return.
Incidentally, M. Gillenormand dresses in a style so many decades out of fashion that he would be stared at on the street, but his daughter always makes sure he wears a cloak when they leave the house.
"I'm bound to say that the only kind of sans-culottes I've ever cared for are the ones in skirts." Of course.
Imminent Collapse
Valjean's decision to leave the country has more to do with the growing political unrest in Paris, and the resulting police presence. But when he finds an address scratched on the garden wall, and some shadowy figure (Éponine, playing puppet master) drops him a note saying "Clear out," he moves the household to the remaining decoy apartment.
Marius is so dejected that he spends the rest of the day wandering around Paris, not even noticing that a revolt is starting around him. At one point he ends up in the river without realizing it. Finally he returns to the Rue Plumet for their evening rendezvous, and Cosette's gone. But a shadowy figure whispers that his friends are waiting for him at the barricade. Oddly enough, that boy's voice sounds sort of like Éponine's rasp. Could it be? Naaah.
Finally, we return to M. Mabeuf, whose slow descent into poverty has reached the bottom. He turned in the windfall of Valjean's purse (which Gavroche had lifted from Montparnasse) to lost and found. The man who loved books more than anything has had to sell them, one by one, even the plates for the book he wrote (not that anyone has wanted to buy a copy in years). With no furniture to speak of, no other possessions worth selling, and deep in debt, his housekeeper/companion Mére Plutarque falls ill. He sells his last book and leaves her the money. The next day, he hears that there's fighting in town, and starts walking.
What else is he going to do?
Pages covered: 844-882. Image by Jeanniot from an unidentified edition of Les Misérables, via the Pont-au-Change illustration gallery.