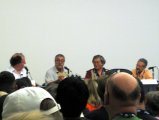 The Sergio and Mark Show

Mark Evanier, Sergio Aragones, Stan Sakai, and someone who isn't Tom Luth.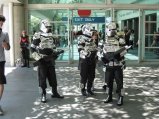 Classic Cylons

From the original Battlestar Galactica.


Captain Justice

She was handing out flyers for The Crusaders.


G'Kar from Babylon 5.

(There's a blooper reel in which, when G'Kar shows up as a bodyguard, he pulls out a pair of sunglasses and puts them on.)


Watchmen Statuettes


Watchmen Statuettes


The Dark Knight Joker Statuette

Every time I see this photo, without context for size, my first thought is, "That was a good costume." Then I remember that it's something like 12 inches tall.


The Dark Knight Batman Statuette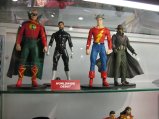 Justice Society of America Figures

Green Lantern, Starman, Flash, Sandman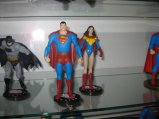 All-Star Superman Figures

Superman and Lois Lane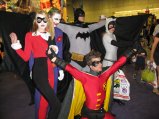 Gotham Quintet

Harley Quinn, Joker, Batman, Catwoman and Robin


Zombie