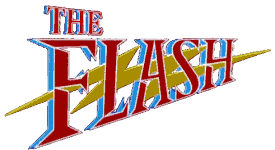 ---
The Flash was created by Danny Bilson and Paul DeMeo and began its Thursday-night run on CBS in 1990. Hampered by a bad timeslot and difficulty reaching an audience outside of comic fans, it was canceled after only one year.
For most of that year, the Flash battled various thieves, drug lords, terrorists, and assassins. Often his adversaries were high-tech—he once fought a robot assassin, and even went up against his own clone. The series also introduced a 1950's Central City crimefighter, the Nightshade (Jason Bernard), who came out of retirement to aid the flash when his old adversary the Ghost (Anthony Starke) came out of cryonic suspension and threatened the city.
Late in the season, a few classic Flash villains were adapted for the small screen. Captain Cold (Michael Champion) became a hit man with super-freezing tech. Mirror Master became Sam Scudder (David Cassidy), a professional thief making extensive use of holograms. The Trickster (Mark Hamill) became a psychopath more like the Joker, and was the only villain to retain his costume in the transition to television. He returned again to appear in the season finale, along with private investigator Megan Lockhart (Joyce Hyser).
TV Movies and Videotape
Several episodes of the series were repackaged as TV movies and released on VHS cassette during the 1990s.

The complete series is available on DVD (released January 10, 2006). When first released, Best Buy offered an exclusive edition including a miniature comic book.*
Some copies of the set have problems with the last scene of the pilot skipping, stopping, or even locking up the player. My copy is OK, but TV Shows on DVD explains how to get a replacement if yours is defective.
Because the DVD set does not feature any extras, producers Bilson and DeMeo have produced a commentary track for Episode 22, "Trial of the Trickster," as a podcast, available through iTunes or from their website.†
The title theme is available on Danny Elfman's Music For A Darkened Theater, vol. 2.
Cast and crew information links courtesy of the Internet Movie Database.
---
Episode 1 (September 20, 1990): Pilot
Episode 2 (September 27, 1990): "Out of Control"
Episode 3 (October 18, 1990): "Watching the Detectives"
Episode 4 (October 25, 1990): "Honor Among Thieves"
Episode 5 (November 1, 1990): "Double Vision"
Episode 6 (November 8, 1990): "Sins of the Father"
Episode 7 (November 15, 1990): "Child's Play"
Episode 8 (November 29, 1990): "Shroud of Death"
Episode 9 (December 13, 1990): "Ghost in the Machine"
Episode 10 (January 10, 1991): "Sight Unseen"
Episode 11 (January 31, 1991): "Beat the Clock"
Episode 12 (February 14, 1991): "Tina, Is That You?" **
Episode 13 (February 7, 1991): "The Trickster" **
Episode 14 (February 21, 1991): "Be My Baby"
Episode 15 (February 27, 1991): "Fast Forward"
Episode 16 (March 30, 1991): "The Deadly Nightshade"
Episode 17 (April 6, 1991): "Captain Cold"
Episode 18 (April 13, 1991): "Twin Streaks"
Episode 19 (April 27, 1991): "Done with Mirrors"
Episode 20 (May 4, 1991): "Goodnight, Central City"
Episode 21 (May 11, 1991): "Alpha"
Episode 22 (May 18, 1991): "Trial of the Trickster"
---
---
---
The Flash TV Special (1991)

* Best Buy initially sold the DVD set with an exclusive comic book included. The comic is a miniature edition of DC First: Superman/The Flash (2002), cut down to 24 pages from the original 38. (Thanks to Chris Dunham for telling me about the ad.)
† Thanks to David Gutiérrez for the info on the podcast.
** Like the DVD set, this list is based on the original airing order. However, the episode guide in The Flash TV Special (1990) lists several episodes in a different order. In most cases the changes don't seem to matter, but in "The Trickster" (aired as #12), one character remarks on the events of "Tina, Is That You?" (aired as #13). I've switched these two episodes to use the logical order.