On the same day as our whale-watching cruise (April 6), we took a submarine tour of Kailua Bay from Atlantis Adventures. The tour started at the Kailua pier, where a boat ferried us out to the submarine in the middle of the bay. The sub itself went down to around 80-90 feet by the end of the trip, and we got to see all kinds of fish and coral.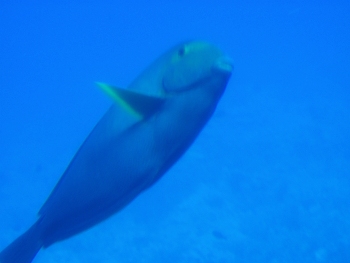 It didn't look nearly so blue to us, of course, since our eyes were adjusted to it. Each window had a pair of cards with pictures of different types of local fish labeled with their names, and the entire trip was narrated by a guide familiar with the local marine life. They did a good job of steering so that people on both sides could see everything.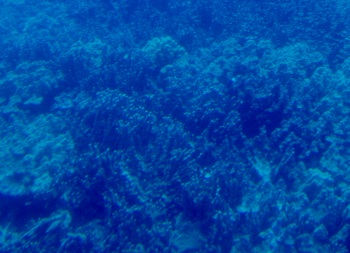 You can't see it in this photo, but in a lot of places you could still see the wrinkles of long-cooled a'a lava beneath the coral.
By the end of the dive, we'd gotten out to where there was mostly sand, and very little exposed rock, so there was hardly any coral (and not many fish, either).
Here's a view of the submarine from the ferry after we disembarked: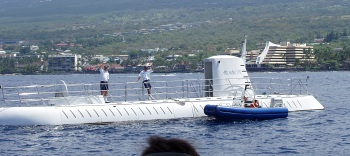 The view of the shore was, as most views were, fantastic. Note the clouds blocking any chance of seeing Hualalai!
This last photo should probably have gone in with the post about exploring Kona: it's the 'Ahu'ena Heiau, King Kamehameha's personal heiau dedicated to the god Lono. This shot was taken from the pier as we waited to board the boat.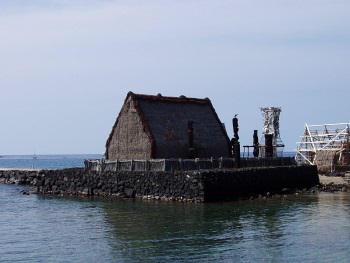 Note: This tour was Wednesday, April 6, 2005.
Update: I've posted higher-res photos on Flickr