One of the controversies surrounding this summer's relaunch of The Flash is the question of how far ahead it was planned. Interviews with Mark Waid and Marc Guggenheim make it clear that it was in the works "nearly a year ago," and definitely before Guggenheim took over as writer. Dan Didio has suggested it was their plan all along, though many fans find this idea suspect, and find it more likely that it was put in place after the first few issues of Flash: The Fastest Man Alive failed to catch on with readers.
While looking for something in Flash: The Fastest Man Alive #1, I noticed something interesting. This is from the Barry Allen dream/origin sequence: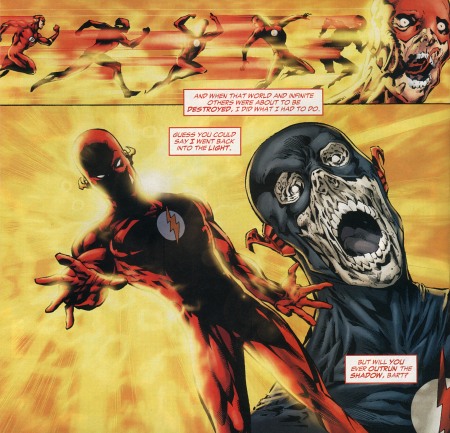 It shows Barry's death, along with the Black Flash, who figured prominently in the last few issues. And that last remark: "Will you ever outrun the shadow, Bart?"
It could simply be setting the dark mood that pervaded the beginning of Bart's run. On the other hand, maybe they did have this planned all along.