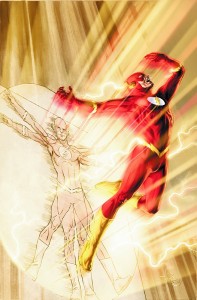 Well, now we know why DC has been infuriatingly vague about what happens in Flash: The Fastest Man Alive #14-15. The answer: Nothing.
That's right, nothing happens in issues #14-15 — because they don't exist! In an interview with Newsarama, Mark Waid revealed that DC is canceling the current series after #13, and relaunching it this fall with #231, picking up the numbering from the previous series. To bridge the gap, they're also releasing a special All Flash #1 in September .
And the plans have been in the works for almost a year. Given how closely everything is tied to Countdown, the JLA/JSA crossover, etc., DC knew going in that they weren't going to pick up with #14, which means that the solicitations, the covers that they commissioned, and the retailer incentives were all a smokescreen to keep the relaunch under wraps.
Of course, why relaunch the book if you're going to keep the same Flash?
On one hand, I think the new book was just hitting its stride, and Bart deserves his shot. On the other hand, Mark Waid on the Flash? And a 1-in-3 chance that it could be Wally? Where do I sign up?