Comic Coverage recently posted a humorous look at the role smoking had in the Golden-Age Flash's origin. Jay Garrick was working late, took a cigarette break, and knocked over a beaker of "hard water." Interestingly, later retellings of his origin downplayed and finally deleted the cigarette.
First, here are the original 1940 panels from Flash Comics #1 (copied from Comic Coverage), showing grad student Jay Garrick taking time out for a smoke: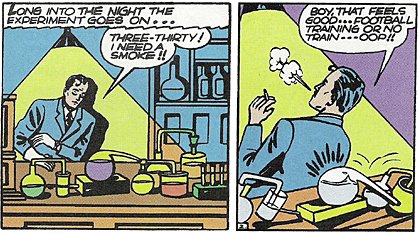 Four decades later, in 1986, Secret Origins #9 would retell his origin. Mindful of the details, but also concerned about modern sensibilities about health, writer Roy Thomas kept the cigarette break, but added Jay thinking, "I know I should give up these things…"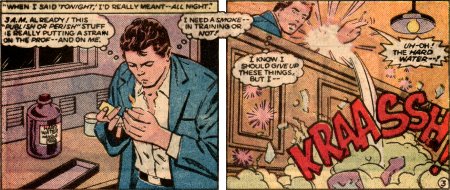 A decade later, the cigarette had disappeared completely. Flash Secret Files #1 (1997) featured a condensed retelling of all three (at the time) Flashes' origins, and this time, Jay simply succumbed to the hour and nodded off, dropping the beaker.