The Whole Foods market in Tustin (the only one in Orange County, as far as I can tell), is moving to the new District shopping center going in at the corner of Barranca and Jamboree, on the site of the former MCAS Tustin Marine base. Several of the big box stores are open already, but they haven't moved yet. In fact, yesterday, they were only part way through putting up the sign: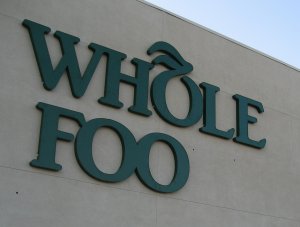 We drove around a bit, exploring the shopping center and the two segments of road that have been completed so far. Outside the shopping center, there's not much to see yet except for barren fields and empty lots sweeping back toward the two blimp hangars and, off in the distance, a building complex on the far side of the former base.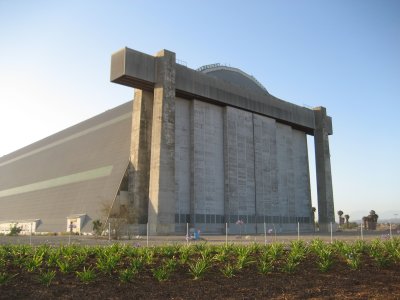 Southeast blimp hangar viewed from corner of Tustin Ranch Rd. and Warner Ave.