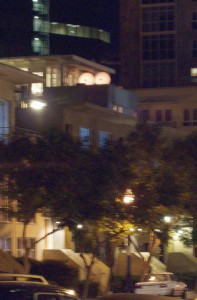 Our first night in San Diego, we picked up our badges for Comic-Con, then went out to see Avenue Q. We took the trolley back, and as we walked up the hill from the Little Italy trolley stop, we saw a pair of giant cartoon eyes looking out over the city from a balcony near the top of a nearby building. I thought they might be satellite dishes with convenient lighting, but then I remembered the number of odd publicity stunts connected to the Simpsons movie. No idea whether it's related or not.
The shuttle route from our hotel to the con passed by this mural, which plays with the nature of the constructed reality. The wall is a newspaper page. The face is a sculpture, a painting. The hands holding the chisel and paintbrush, of course, are just as artificial as the face being created.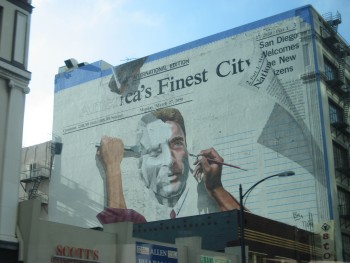 We noticed an interesting coincidence at Horton Plaza. Just a few doors down from the Post Office was an Aeropostale clothing store: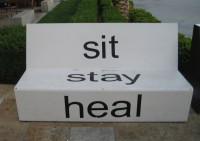 This bench was in front of a hotel, probably the Hilton San Diego Gaslamp. I suppose that makes the pun on dog training more appropriate, since it's a block away from Petco Park stadium.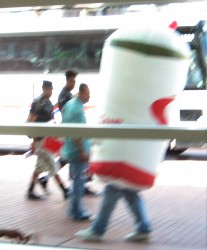 I've always figured standing out on a street in a mascot costume must be miserable, especially in summer. But how much worse to be dressed as a giant soft drink? I suppose this would go with last year's walking sandwich.
Now, you have to wonder about AMN Healthcare. It's clearly a set of initials…but how often do people complain about health, insurance, and the healthcare industry? It's just one letter off from "Damn Healthcare."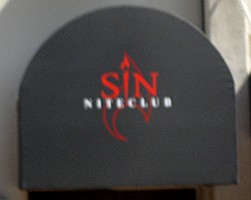 Back to the shuttle route, next to (or possibly connected to) the Martini Ranch spotted in a previous installment of this series, was this nightclub that made no pretensions about what people are going there for. Also note that it's a "niteclub" — is that a nightclub with fewer calories?
Then there's this place, which employed the ultimate euphemism: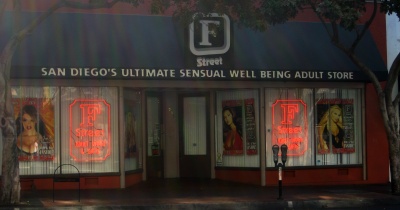 That's got to be the most convolutedly delicate way of saying "sex shop" that I've ever seen.
See Also: Convention Photos & Write-Ups