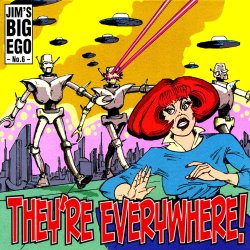 I just discovered that They're Everywhere, the album featuring the Flash-themed song, "The Ballad of Barry Allen," is now available on Amazon's MP3 store. The band, Jim's Big Ego, is headed by the nephew of legendary Flash artist Carmine Infantino, who did the cover artwork on the album.
And yes, the song's actually good!
It's been available on iTunes (which is how I originally bought it) and CD before, but it's worth mentioning since Amazon's music downloads, like Slabster's, are just plain MP3s. No DRM, no account activation, no need to authorize computers or stick with one company's player—hardware or software.
There's also a fan music video, "Seems so slow," that uses clips from the Justice League and Teen Titans cartoons:

See also: Flash Music.
P.S. Would you believe this is the first time I've actually embedded a YouTube video in this blog? I'm so behind the times, I know…