I'm still attending Comic-Con in civvies, but Katie wore two costumes this year: another update of her pirate outfit on Friday, and a Sylar victim with a telekinetic slice across her forehead. Saturday, of course, for the big Heroes panel.
She did the makeup from scratch, using latex and fake blood, and got a lot of attention. In fact, while waiting in line two hours to get into the panel, series director Allan Arkush walked past, stopped… and took her picture!
Sadly, even after waiting two hours she wasn't able to get into the room, which was about half as big as it needed to be for the audience. Lots of people left at that point, but she was among the group that stayed hoping to get into the Battlestar Galactica panel afterward (which she did). While bored in line, she and the fan next to her posed as Sylar and victim. Edit: we have a copy of the photo, and permission to post it!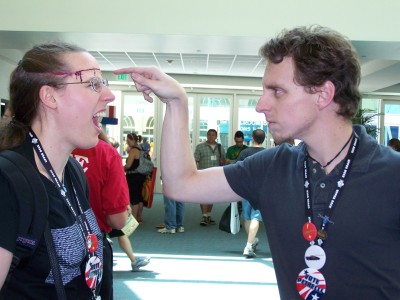 So you can see the result of the traumatic experience of the day: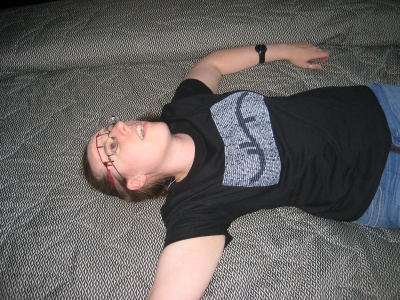 She got her revenge, though. After we went to see the Buffy the Vampire Slayer 10th anniversary screening of "Once More With Feeling" (described in my Saturday guest post at Comics Should be Good), we went out to the Ghirardelli shop in the Gaslamp District. She got a dark chocolate raspberry sundae, and the raspberry sauce was dripping around the edge of the glass, just so…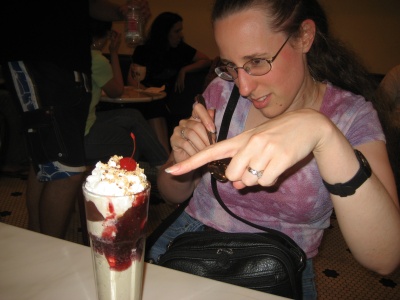 See Also: Convention Photos & Write-Ups