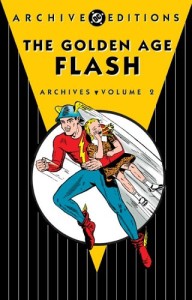 The Comics Archives has launched its 2008 DC Archives Survey [edit: it's since been taken offline]. Readers are asked which DC Archive books they own, and which series they would be likely to buy if new volumes were released next year. Results will be collated and sent to DC Editorial.
DC's Archive line is their line of hardcover reprints on nice, glossy paper, usually following a character or team starting at the beginning of the series. DC has two sets of Flash archives right now:
The Flash Archives: 4 volumes following Barry Allen from his first few appearances in Showcase through the start of his solo title, covering 1956–1962.
The Golden Age Flash Archives: 2 volumes following Jay Garrick through the first 2 years of Flash Comics and All-Flash, covering 1940–1941.
The survey also asks about other reprint formats, including the paperback Chronicles series, the Omnibus series (hardcover, but lower-quality paper), and more thematic reprint sets (one suggestion is Flash: The Death of Iris Allen
So if, like me, you're still hoping for that next volume of Golden Age Flash Archives—or any other classic DC book that hasn't been reprinted in decades, if ever—stop on over and fill out the survey.
(via Comic Bloc Forums)